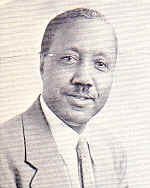 Beverly York Blow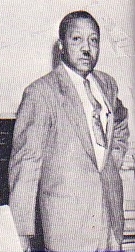 Photographs courtesy of
Laura Blow Turner,
LTurner685@aol.com, daughter
Beverly York Blow


(A biographical sketch from the dedication page of the Frederick Douglass, Jr. High School Yearbook, "The Helm", 1966)
Contributed by his daughter, Laura Blow Turner, LTurner685@aol.com)
Anyone who is intimately associated with our honoree recognizes, among other things, that he is a Latin scholar. Our class chose the Latin phrase, E pluribus unum, one out of many, as an appropriate symbol of his life and accomplishments.
Just as the coin bearing this famous inscription has two distinct sides with varied characteristics, so the life of Mr. Beverly York Blow portrayed the characteristics of a many faceted personality. One side revealed the debonair lover of excitement, man-of-the-world --- astute thinker, adroit bargainer, and rugged individualist. The other exposed that of the scholar, the philosopher, teacher, devoted husband, ideal parent, and sympathetic colleague.
Mr. Blow devoted a lifetime to youth and the teaching profession. For 17 years, [until retirement in 1963] he served as principal of our alma mater. Every student came to realize (sooner or later) that behind that stern voice and granite exterior lurked the heart of a child overflowing with compassion and understanding.
Even retirement could not separate him from youth and their challenges. He still can be found substituting in our city's classrooms.
This composite of our honoree leads us to conclude Mr. Beverly York Blow is a man whose dedication to youth is worthy of praise and emulation. The Class of 1966 is pleased to dedicate to him its best -------- THE DOUGLASS HELM.
Ecce homo! Behold the man!
[Obituary]