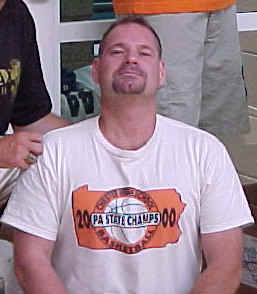 Photograph courtesy of
Dave Burman,
Dave Burman

DOWNTOWN

By Andrew Scot Bolsinger
News-Record [Harrisonburg, VA] Staff Writer
8/27/2002

After 13 Years In Valley, Burman Starts New Gig

For local "personalities," the Valley is a relatively small fishbowl. But itís a little roomier now because last week the fishbowl lost one of its bigger fish.

Dave Burman worked for Mid-Atlantic Radio and Clear Channel Communications for 13 years. He was a common fixture at public events and one of the more widely recognized media figures. The Bob Corso of radio, if you will.

"A whole lot of eating contests, dunk tanks, you know," he said about his time in the Valley.

Members of the media are often viewed as outsiders, people simply looking to move to the next bigger and better stop. All too often, people in this business live down to that impression, acting at times like college students who canít wait for graduation day.

Burman was an exception, bucking those unfortunate stereotypes for 13 years. He loved the local scene and was actively involved in everything from baseball to First Night parades to the dreaded dunk tanks.

Last week, Burman moved with his family to Lewistown, Pa. The water in our bowl is a tad less interesting now that he is gone.

First Day

When itís been 13 years since your last one, a first day can be tough. Burman was doing fine, however, when I caught up with him on his first day at WKVA.

"Itís pretty cool," he said. "Itís an old-fashioned radio station, man. Like back in the day."

He is the sports director and afternoon drive personality for the Lewistown area, which is about 25 miles from State College, home of the Penn State Nittany Lions. The small station is "mom and pop owned," Burman said, a far cry from his last two years with Clear Channel, the worldís largest radio company.

Burman is a high-energy guy. And the first-day jitters had him rolling at triple-espresso speed as we talked. His first introduction was manning the WKVA weather line.

"Believe it or not," he said, "the big thing up here is a phone weather line. You get about 200 people a day calling this thing."

Callers were in for an excited surprise with Burmanís weather update on the other end of the phone.

Despite the new challenges, the move was a bit of a reluctant one for Burman, who agreed to move at the urging of his wife and stepson, both of whom hail from the area. Burman is a Chester, Pa., homeboy, which is a couple of hours from Lewistown.

Burman is adapting quickly, but that still doesnít make a first day on the job easy.

"It was tough [to leave], I am starting all over again. I loved my job; Iím a big sports guy. Iím glad to see people getting pumped up about high school athletics back there. Especially this year."

Burman is also excited about the new possibilities. Local high school sports in Lewistown have "passionate" followers, he says. Penn State is always a big deal as well.

"[Football coach] Joe Paternoís gotta start winning. Thatís the big talk up here. Everyoneís very pessimistic, even though they are ranked 24th. Joe Pa is legend, but people still are worried."

When one of the most successful coaches in college football history is feeling the pressure to win, you know the region is serious about sports. Burman will be a duck to water in that pond.

Going To Miss It

Still, Burman is going to miss the local things he loved, like doing play-by-play at Harrisonburg Turks games, doing remotes for the radio station and going down to The Burger House on Saturday morning to talk sports.

"I am going to miss that," he said.

And his greatest memory after 13 years?

"Oh man, I did a live remote at The Hole in the Wall [a downtown adult store]," he said with a chuckle. "It was a mob down there. My wife really let me have it for that one."

Andrew Scot Bolsinger can be reached at asbolsin@dnronline.com
---
(An article from the Daily News-Record of Harrisonburg, VA)
A Distinctive Voice Leaving Valley

By MIKE BARBER
Daily News-Record

When Dave Burmanís voice pipes out of the radio on Aug. 17, it will be his last broadcast for WKCY, ending a 13-year stint as one of Harrisonburgís most distinctive sports personalities.

Burman, who has saturated himself in local sports and politics since arriving here in 1989, is scheduled to start a new job on Aug. 20 as sports director for a radio station in Lewistown, Pa.

WKCYís sports and news director will say goodbye to the Shenandoah Valley Ė but it wonít be easy.

"Iím going to miss my job a lot. Itís been 13 years," Burman said Wednesday.

Burman came to Harrisonburg in the summer of 1989 when the ownership of the radio station he worked at in Carlisle, Pa., bought WKCY.

"WKCY radio used to be in a little shack on Route 11," Burman said. "It looked like a haunted house."

The station moved to its current studio on University Avenue during Burmanís first year, and the native Pennsylvanian quickly found his niche.

"Heís a big supporter of youth sports," WKCY operations manager Steve Knupp said. "He sees the importance of that in development of kids. Ö

"Heís really into sports. He can probably talk sports longer than anyone you ever meet."

Anyone who has met Burman, now 44, would probably agree.

Burman, who graduated from York College in 1980, is in charge of news and sports at the station Ė along with getting the mail in the morning and taking out the trash.

"I did the job of about five different people. Whoever they hire to replace me will have some big shoes to fill," the never-shy Burman said.

He paused.

"That might sound arrogant," Burman said with a worried tone. "Well, I can pat myself on the back."

After 13 years of pouring uncommon energy and enthusiasm into local sports, both on the radio and as the public-address announcer at various high schools and colleges, Burman hopes he has done more than just report on sports. He hopes heís been able to get people excited about them.

"What I did was I came down here and I brought what no other sportscasters have had -- passion, fire," Burman said. "I love talking about my job outside of the station. Itís not just a job for me; itís my hobby."

Burman, who said he has taken only one sick day in 13 years, credits his love of sports to the atmosphere in his hometown of Wallingford, just outside of Chester, Pa. Ė "one the legendary scholastic sports towns in the country," Burman said. Heís known for wearing his bright orange Chester T-shirt to assignments. The town that boasts such sporting legends as NFL players John Mobley, Joe Klecko and Lamar Campbell, current major leaguer Ben Davis and coaching greats Jack Ramsey, Bo Ryan and Danny Murtough was never far from Burmanís heart.

Now, he wonít be as far away either. Lewistown is just over two hours from Chester. Burman said heís making the move out of family concerns for his wife Tammy and his stepson, Zane, whose father lives in Pennsylvania.

Burman met Tammy while dining at a Harrisonburg restaurant. Tammy Ė also a Pennsylvania native -- was his waitress and noticed his eating habits.

"I had the buffet and she couldnít believe how much I ate. But she still went out with me," Burman said.

It wonít be easy for Burman to leave the Burg Ė he lists Spotswood High Schoolís 1993 state basketball championship, Turner Ashbyís back-to-back girlsí titles in 1998 and 1999 and this yearís Harrisonburg state football title among his best memories Ė but he expects to pick up at his new job right where he left off here.

Burman already has begun to throw himself into the scholastic sports scene in Lewistown.

"You know, Lewistown just won a state title in baseball," he said.

On Aug. 17, Burman will hit the Harrisonburg airwaves one last time, and the location couldnít be more fitting. He will broadcast live from B and Jís Auto Sales on Route 11, right across the street from the old WKCY studio Ė "the haunted house."

But he wonít leave any ghosts behind, he said. Just fond memories of what he considers a high school sports hotbed.