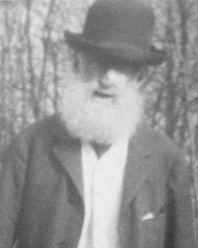 Photograph courtesy of
Widener University Art Collection & Gallery, Alfred O. Deshong Collection
Alfred Odenheimer Deshong

September 30, 1837-April 19, 1913

Son of John O. Deshong & Emeline Terrill Deshong

For more about Alfred O. Deshong, see the "Deshong Family" from Louis J. Warfel's (loujwarfel@juno.com) My Book of Old Chester
---
(The biographical sketch below was taken from One Hundred Years, The Delaware County National Bank Chester, PA 1814-1914)
Years in parentheses are years of service as a Director of The Bank of Delaware County and/or The Delaware County National Bank
Alfred Odenheimer Deshong (1896-1913), son of John O. and Emmeline L. (Terrill) Deshong, was born in Chester, September 30, 1837, and was educated in the schools of the borough and Bolmar Academy, at West Chester. In 1862, when Lee invaded Maryland, he enlisted as a private in Company K, Tenth Regiment, Pennsylvania Militia, and served during the Antietam campaign, under Captain Thatcher, and was honorably discharged September 27, 1862. When Lee invaded Pennsylvania, in 1863, he enlisted in Captain William Prick's company, "The Slipher Phalanx," 37th Regiment, Emergency Corps, called to the field by the proclamation of Governor Curtin, serving with his command during the Gettysburg campaign, until honorably discharged August 4, 1863.
In 1865, he entered into partnership with his brother, John O. Deshong, Jr., in operating the noted Deshong quarries in Ridley township. For more than thirty years the firm continued business with remarkable financial success, until terminated by the death of John O. Deshong, Jr., in 1895.
Alfred O. Deshong was distinguished as an art critic, and as such his opinion was sought by artists and art students in all sections of the country. In his residence on Edgmont avenue, Chester, he gathered a collection of high grade paintings, ivory carvings, and old Japan bronzes, etc., which was known far and near for the superior character of the articles it contained. Many of the most distinguished personages in the United States have received the hospitality of the mansion, hence to it can be applied the words of the poet, "The ornaments of a house are the guests that it contains."
Mr. Deshong was a liberal benefactor in charitable objects, noticeable among which have been his gifts to the Chester Hospital. At his death, April 19, 1913, he left in trust, his art collection and his mansion and grounds to Chester, for the use of the people of the city as an art gallery and educational purposes, endowing it with a fund for its upkeep. This bequest, one of the most generous ever made to an American community, has resulted in the establishment of the Deshong Memorial Park, and the building of a splendid art gallery, now under construction.

[Obituary]