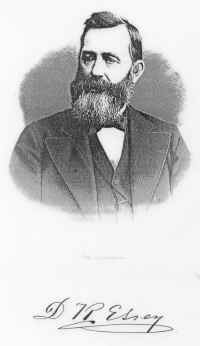 Photograph courtesy of
Dave Komarnicki,
Chester, PA
David Reese Esrey


(A biographical sketch contributed by Helena Esrey Reed Ashwell, Ashwell2000@aol.com, great-great granddaughter of David's half brother.)
David Reese Esrey, son of Jonathan Esrey and his second wife, Jane Hawkins Esrey was born December 4,1825; married Margaret Marker April 25,1850; died April 11,1898. His father, Jonathan Esrey was sheriff of Delaware County from 1849-1851.
D.R. Esrey opened the Powhattan Mills with Hugh Shaw in 1871. It was known as the Shaw & Esrey Company. Their products were known as Powhattans, Covingtons, Provident and all-woolen jeans. The company was located in Chester, bounded by Edgemont Ave, 15th street and possibly 18th street.
Family members also had their homes nearby. D.R.'s home became known as "The Esrey Mansion" and was situated on Edgemont Ave. adjacent to what is now Chester Rural Cemetery.
---
(The biographical sketch below was taken from One Hundred Years, The Delaware County National Bank Chester, PA 1814-1914)
Years in parentheses are years of service as a Director of The Bank of Delaware County and/or The Delaware County National Bank
David Reese Esrey (1878-98), son of Jonathan and Margaret (Kerlin) Esrey, was born in Ridley township, December 4, 1825. He was educated in the public schools of Nether Providence, his parents having removed to Wallingford when he was a child. In 1844, he obtained a position in a general country store at Brookhaven, Chester township, of which six years later he acquired ownership.
Mr. Esrey did a thriving business in general merchandise, and in December, 1863, he entered into partnership with Hugh Shaw in the manufacture of cotton goods, the firm being Shaw & Esrey. Mr. Esrey furnished the capital and Mr. Shaw the practical knowledge of the business. The firm purchased the interest of Patrick Kelly in the Pennellton Mills, at Bridgewater, Aston township, and began the use of the trademark "Powhattan Jeans," a class of goods then commanding an enormous sale.
In 1866, the firm erected a mill just beyond the then boundary of Chester city, and removed their business there, naming the locality "Powhattan." To meet the demand for their goods, in 1871, they erected mill No. 2, and having included the manufacture of doeskins and cassimeres among their products, in 1877 Mill No. 3 was built.
In 1879, the firm became a limited corporation, under the title "Shaw, Esrey & Co." For many years Mr. Esrey was president of the Board of Trustees of the Madison Street Methodist Episcopal Church, and was a liberal contributor to the erection of this edifice.
D. R. Esrey died April 11, 1898, aged 72 years.
[Obituary]