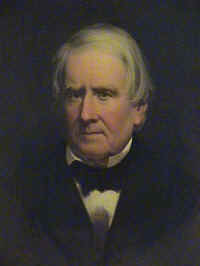 George Gray Leiper
Photo courtesy of Thomas W. Leiper, Stamford, CT
"[This] is a portrait of George Gray Leiper, by S.B.Waugh, circa 1861, when he was about 75. He is my great, great, great, great grandfather and this portrait presides over our dining room here in CT."
George Gray Leiper


(A biographical sketch taken from One Hundred Years, The Delaware County National Bank Chester, PA 1814-1914)
Years in parentheses are years of service as a Director of The Bank of Delaware County and/or The Delaware County National Bank
Hon. George Gray Leiper (1814-19, 1821, 1831), son of Colonel Thomas and Elizabeth Coultas (Gray) Leiper, was born in Philadelphia, February 3, 1786. In 1803, before he attained his seventeenth year, George G. Leiper graduated from the University of Pennsylvania, and shortly after was placed in charge of his father's extensive snuff works and quarries along Crum creek.
From his earliest manhood, George G. Leiper was known as of "Lapidea," now the property of Hon. William C. Sproul, and for many years was esteemed as the wealthiest man in the section, where, in an unbroken chain the Leiper realty holding extended for seven miles.
Eminently a religious man, in 1811, then twenty-five years of age, Mr. Leiper established at his house the first Sunday school in the history of Delaware county, out of which movement ultimately grew the Leiper Presbyterian Church, in Ridley township, which he erected in 1818, personally defraying the total cost incurred in building and outfitting that sanctuary.
During the War of 1812 he was first lieutenant of the Delaware County Fencibles, commanded by Captain James Serrill, and with the Twenty-second Regiment, of which that company was part, was mustered into the service of the United States, September 24, 1814, and was with the forces concentrated at Camp duPont, and later at Camp Gaines, Marcus Hook, when General Ross and Admiral Cockburn threatened Philadelphia and the Delaware river towns in the fall of that year.
He was a member of the Legislature in 1822-23, and his advocacy in that body of a State appropriation for the maintenance of the Deaf and Dumb Asylum in Philadelphia was so effective that in recognition of his efforts, he was elected as director of that institution, and annually thereafter for forty-five years, until his death, he was re-elected to membership in the board. He was one of the appointees in 1824 to represent Delaware county in the reception of Marquis de Lafayette. In 1828, he was Representative from this District, serving in the twenty-first Congress, and although the nomination was tendered him and he was strongly urged by President Jackson, a warm personal friend, to be a candidate for a second term, he refused, notwithstanding his election to the office was a foregone conclusion. At that time Mr. Leiper had just completed the canal projected by his father and John Wall in 1790, and he believed that so enormous would be the growth of the output of the Leiper quarries, that he must not sacrifice his personal affairs to give attention to those of the nation. The fact is, the canal never paid even its current expenses, much less a dividend upon its cost.
On February 25, 1843, Governor Porter appointed George G. Leiper an Associate Judge of the Courts of Delaware County, and February 16, 1848, he was re-appointed to the bench by Governor Shunk, continuing to serve therein until the office was made elective, and his successor had been chosen by the people at the election in October, 1851, Judge Leiper having declined to be a candidate. His active public career closed with his retirement from the bench. Hon. George G. Leiper died at his house at Lapidea, November 18, 1868, aged 82 years, 9 months and 14 days.
[Obituary]