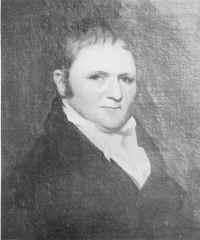 Photograph from
One Hundred Years, The Delaware County Nation Bank Chester, PA 1814-1914
John Newbold


(A biographical sketch taken from One Hundred Years, The Delaware County National Bank Chester, PA 1814-1914)
John Newbold (1814-16), first president of The Bank of Delaware County, a descendant of the Newbolds of Beighton, Derbyshire, England, a family prominent in the mother land since 1423, was born in Chesterfield township, Burlington county, New Jersey, March 17, 1773. He was a son of William and Susannah (Stevenson) Newbold. His father, a substantial farmer, was a member of the Committee of Safety of Burlington county during the Revolutionary War, and for several terms served as a member of the Governorís Council.
In 1791, when John Newbold was eighteen, he located in Philadelphia, and, without capital, began his business career as a produce commission merchant in a small shop on Front street. When the yellow fever visited the city as a scourge, in 1793, he was one of the few who survived a severe attack of the disorder. The following year his brother William was associated with him in business, and shortly afterward a Mr. Montgomery, when the firm became Montgomery & Newbold, which soon acquired a large and remunerative trade.
The Napoleonic war had so stimulated the values of foodstuffs that John Newbold withdrew from the firm in 1806 and purchased a large Plantation in Ridley township. In the neighborhood of the present Crum Lynne, whereon he resided, devoting his attention to farming and grazing cattle, with marked success. The stone house, which he built, still stands on the north side of Chester avenue in Ridley Park borough, at the brow of the hill above the old stone schoolhouse. He soon became a man of distinction in this community. In 1812 he was elected State Senator from Delaware and Chester counties, and August 27, 1814, was elected president of The Bank of Delaware County. In the late fall of that year Mr. Newbold resigned his seat in the Senate.
He had purchased a large farm near Bristol, Pa., where he removed the spring following, and on March 21, 1815, resigned the Presidency of The Bank of Delaware County. Mr. Newbold and his brother, Bargillai, believing, as did many shrewd business men of that day, that the completion of the Delaware and Chesapeake canal would result in diverting, in a great measure, the shipping business from Philadelphia to the east end of the canal, purchased large tracts of land at what is now Delaware City, and expended considerable capital in founding that town, an enterprise which financially embarrassed Mr. Newbold, with the result that his real estate in Delaware county was sold at sheriff's sale to satisfy the judgments of creditors who had advanced money to be used in his speculation at Delaware City. John Newbold died at "Bloomsdale," the name he had given to his farm near Bristol, June 6, 1841, aged 68 years.

[Obituary]