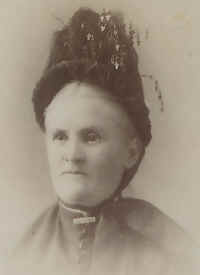 Photograph courtesy of
Tina Culbertson,
CupaTea712@hotmail.com
Anne Dalton Newton


(A biographical sketch by Tina Culbertson, CupaTea712@hotmail.com)

Anne Dalton is the eldest child and first daughter of Joseph Dalton and Jane Whitman. She was born April 6, 1831 and baptized in Dalston, England May 6, 1831.

By 1833 the Daltons moved to the area near Warwick Bridge where Ann's father, Joseph, worked for the Peter Dixon and Sons textile mill. The Dalton family lived in the village of Burnrigg where many other mill workers resided. Four more Dalton children were born and baptized in Wetheral parish before the family immigrated to the United States.

Little is known about Anne's childhood other than the fact that she left England with her parents and four siblings sometime between November 1840 and June 1842.

According to census records, Anne was 20 years old in 1850, living with her parents and seven siblings in Chester, Delaware County, Pennsylvania. On September 30th, 1853 Anne Dalton married William Newton in Upland, Pennsylvania. The Rev. J. B. Maddux officiated. The marriage was announced in the Delaware County Republican on October 4, 1853. The Delaware County Republican was a local paper for the Upland community.

The Newtons left Pennsylvania and moved to Missouri shortly after marriage and became dairy farmers. Later they moved to Wisconsin and it is believed they continued in the dairy farm business. They lived in an area of Wisconsin that supported miners, however, descendents do not believe they engaged in this type of work. Some of their sons went to Kansas in the 1880's and 1890's. It was around the time of homesteading and family lore states the sons farmed and worked the wheat fields.

William Newton was born January 13th, 1827 in Lancashire, England and died August 11, 1902 in Macon County, Missouri. Anne Dalton Newton died September 13th or 15th, 1903 in Macon County, Missouri.

---
Anne and William Newton's children are:

1. Lizzie Newton
born August 22, 1854 /d. March 1876
married George C. Daugherty (b. 1853 Macon Co., MO)


2. Joseph Newton
born August 6, 1857 Lafayette Co., WI / d. Jan. 6,1860


3. Samuel Newton
born July 17, 1859 Darlington, Lafayette Co, WI
died in 1922
married Lillie Goodrich on July 13, 1890 (b. Nov. 1872 PA)


4. George William Newton
born August 6, 1862 Darlington, Lafayette, WI
died July 16, 1953 La Plata, MO
married Lela Abigail Ives on August. 1, 1885 in Kansas


5. Horace Edward Newton
born July 16, 1864 Darlington, Lafayette co., WI
died 1937
married Mary English


6. Cyrus Lincoln Newton
born March 10, 1867 Lafayette Co., WI
died April 3, 1867


7. Laura Newton
born August 22, 1870 La Plata, MO
married Bruce Cuffel


8. John Franklin Newton
born August 3, 1873 La Plata, MO
died 1952
married Myrtle Hackett on February 18, 1897
---