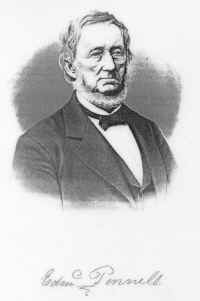 Photograph courtesy of
Dave Komarnicki,
Chester, PA
Edmund Pennell
(A biographical sketch taken from One Hundred Years, The Delaware County National Bank Chester, PA 1814-1914)
Edmund Pennell (1830-32, 34-42, 44-46, 49-50, 62-64, director Delaware County National Bank 65-74. Seventh president State Bank [of The Bank of Delaware County] February 15, 1864, December 25, 1868. Second president National Bank, January 16, 1865, to January 19, 1874), son of Jonathan and Sarah (Hibberd) Pennell, was born in Chester, April 22, 1802. He was educated in the old Hoskins school, at Fifth and Welsh streets, and for a term assisted about his father's forge, although not designing to make himself master of the blacksmithing trade. His predilections were for agricultural pursuits, in which he became very proficient. When Jonathan Pennell died in 1830, his son, Edmund, was elected to his father's place in the board of directors, and with intermissions, as were then mandatory by the State laws, he held official relations with the bank for a period covering thirty-six years, one of the longest terms of service in the history of the institution.
In 1835, Mr. Pennell purchased the Charles Justis farm and for many years cultivated it successfully until 1863, when he sold the plantation at more than five times its original cost to him. A man of liberal means, Mr. Pennell gave his unreserved attention to the conduct of the bank and the affairs of the Chester Creek Railroad Company, of which corporation he was a director.
From January 16, 1865, to December 25, 1868, Mr. Pennell held the dual offices of president of The Bank of Delaware County, which was in process of liquidation, and president of The Delaware County National Bank, which was the successor of the original State institution. On January 19, 1874, Edmund Pennell, then in his seventy-second year, ceased wholly his official relation with the bank.
In his early life, Mr. Pennell had taken active interest in the political affairs of the county, steadfastly refusing to be a candidate for an elective office save in 1847, when he served one term as County Commissioner, refusing re-nomination when it was tendered to him. Edmund Pennell died March 21, 1894, aged nearly 92 years.

[Obituary]