A brief history of Chester Rural Cemetery
Chester, PA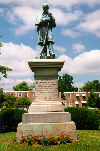 The Chester Rural Cemetery Association of Delaware County, PA was founded in March 1863 to serve the needs of the rapidly growing city of Chester, PA and the surrounding Delaware County area.
Among the first interments were Civil War casualties, from both sides of the conflict, from the US Government Hospital located across the street on what would later become the campus of Crozer Theological Seminary and Crozer Chester Medical Center. Many of these casualties were removed on October 28,1891 to Philadelphia Soldiers' National Cemetery in Philadelphia, PA. Some of the confederate soldiers were later taken home by their families for burial. The records of all, however, have been preserved in the archives of the Cemetery.
As the largest and most prominent Cemetery in the area in its early years, its Public Vault was also often used when weather conditions or transportation logistics made it impossible to transport a body immediately to its final resting place. As a result, there are also records available about a number of individuals who were later interred at other cemeteries.
Also at Chester Rural are a number of people originally interred at other Cemeteries but removed to Chester Rural as the city expanded and as families admired the beauty of this "new" rural cemetery.
Chester Rural is Delaware County's only example of the rural or landscaped cemetery built in the days before public parks and as such it was a popular destination for a Sunday afternoon outing as late as the early part of the twentieth century. Its curved walkways and driveways, and rolling hills and valleys were landscaped with a variety of specimens of the area, and until the mid 1950's a focal point was the acre-and-a-half lake, bordered by dogwoods and home to geese, ducks and water lilies.
Spanning over 36 acres and 136 years, Chester Rural is still in full operation and is the final resting place of over 31,000 individuals. Careful records have been kept over the years and, in some cases, family information has been added by visitors researching their ancestors.
With the advanced communication now made possible by the internet, Graphic Details Publications hopes to make the information more easily available to those searching their roots and to add to our knowledge of those interred at Chester Rural so that it can be preserved for future researchers. If you would like to submit information about your family or friends, you can do so by following this link to a form that you can fill out online or, if you prefer, it can be returned by mail or fax.
If you are researching your ancestors, you can browse the searchable index of all those ever interred at Chester Rural. Instructions for submitting a query and receiving detailed results are posted at the above link.