Home > Businesses > Manufacturing Plants > Roach's Shipyard
Roach's Shipyard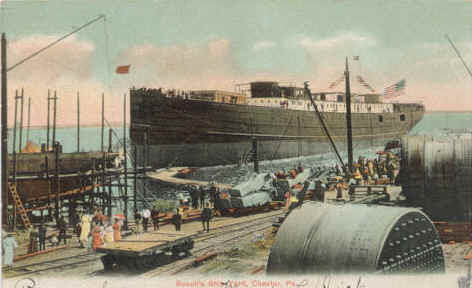 Photo from Post Card c. 1906
Night Watch | Former Employees | Company History
Front Street from Fulton to Pennell streets
---
Night Watch

Capt. Charles Kelly, Chief until October 1899 (left to become captain of the Chester Freight Line steamer "Chester".

---

Former Employees
Click here for our listing of known employees of Roach's Shipyard.

Richard J. Bennett, machinist (per 1885-86 City Directory)

---

Company History
A 1934 Chester Times article mentions a lady who recalled that in 1862 this was known as Sinex Shipyard.

Roach's Shipyard operated from 1859-1885. It then became the Delaware River Iron Shipbuilding Works.

The location of Roach's Shipyard later became the location of the Ford Motor Company assembly plant.
---
If you have any information and or pictures that you would like to contribute about the history of Roach's Shipyard, please forward it to john@oldchesterpa.com
---
© 2000, 2001, 2003 John A. Bullock III.

This page last updated 10/18/05