Chester High School Dance Band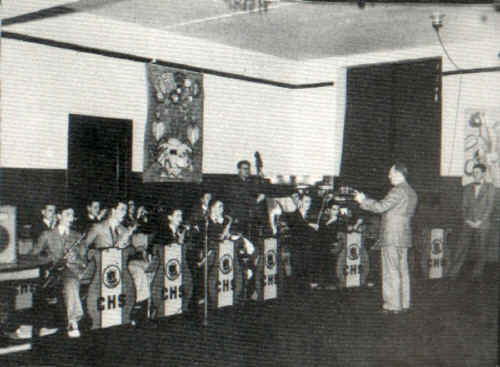 Photo courtesy of Betty-Jane Bennett Smith, Smith9697@aol.com
"The Band started in 1932. It played for the Friday night cafeteria dances (25 cents).
There were 14 boy instrumentalist and two solists,
Marian Lambert and Betty- Jane Bennett.
We would go to Bullocks for refreshments during and after the dances. "
"I believe the original drummer for Bill Haleys Comets was Ralph Jones,
Class of 1940 CHS. He was Vice President of my class.
He played the drums for the CHS Dance Band under the direction of Charles D. Long."
---Betty-Jane Bennett Smith

---
© 2001 John A. Bullock III.
Graphic Details Publications
This page last updated 10/18/05