Home > Schools > Immaculate Heart of Mary School
Immaculate Heart of Mary School
First Communion Mass 1960, in front of shrine to Mary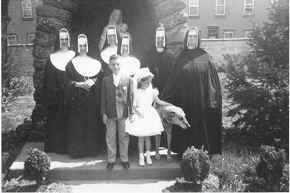 Photo courtesy of Mike Majeski
Immaculate Heart of Mary School – 2nd and Norris Streets - Chester, Pa. – 1960
Photo taken following First Communion Mass, in front of the shrine to Mary, located in the lawn of the school's convent.
From left to right – Unknown, Sister Maria Teresa, Unknown, Mother Marian Joseph, Sister Mary Richard and Sister Isabel.
Anne Marie Majeski made her First Holy Communion, with support from her brother Michael and the Sister's Dog "Sport".
---
© 2002 John A. Bullock III.
Graphic Details Publications
This page last updated 10/18/05