Home > Schools > Public Schools > Larkin Grammar School
Larkin Grammar School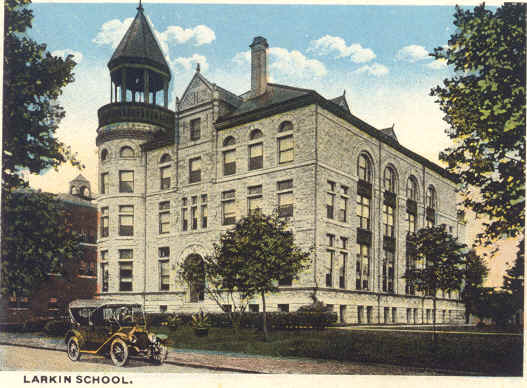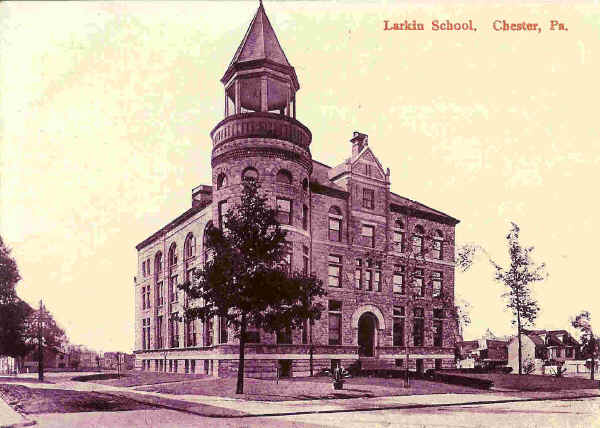 Post card photo courtesy of Ron Crowther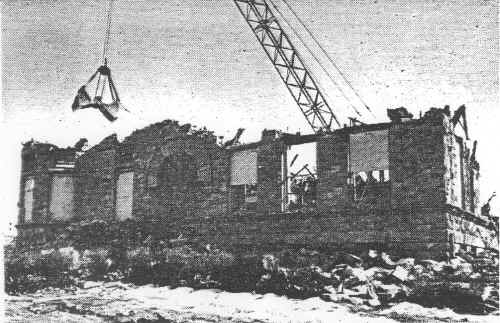 Larkin School demolition; 1988 photo from the Delaware County Daily Times, Courtesy of Lucinda Cooper.
9th & Crosby Streets
Chester, PA
Principals | Faculty | Staff | Classes | School History | Recollections
---
Principals:

Byron J. Pickering (? - 1921, 1925, 1927, 1928)
Miss Beacham (? - 1932, 1942 - ?) - 4, 1
Miss Elizabeth T. Doherty (? - 1944-48 - ?) - 1

[Miss Doherty passed away on March 27, 2003. She is interred at St. Michael's Cemetery.]

Miss Sara Callaghan (? - 1950, 1958 - ?) - 5, 1
Joseph Volzone (? - 1974-75 - ?) - 5





---

Faculty:
Some Teachers:
Mrs. Mary Rainsden (1899)

Some faculty (c. 1921-1922), thanks to Abe Soifer: - 2
Mrs. McGowan (Music)
Mrs. Weir (History)
Mr. Worst. (Football Coach)
Ted Ryser, a student at Chester High School at the time, coached basketball

Some faculty (1932) - 4
Miss Ward (First grade) (lived at 7th & Fulton St.)

Some faculty (1935 & 1936) - 3
R. S Clements (6b) (1935 & 1936)

Some faculty (1944-1948), thanks to Dan McGinniss, danm@dmv.com:
Miss Brown - 1
Miss Powers - 1
Mrs Williams - 1
Mrs Beardsley - 1
Mrs Fenton - 1
Mrs Webb - 1
Mrs Ewing - 1
Miss Callaghan--Later became Principal - 1
Dan McGinniss (1958) - 1
Mrs. Teeter - (music) - 1
Miss Kidd - (PE) - 1
Mr. Volzone - (PE, later Principal) - 1
Miss Bailey - (4th grade) - 1
Mrs. Ludwig - (3rd grade) - 1
Mrs Echternach - 1

1956-57:

Miss Ferrone (married Merretti)- 6


---

Staff:
Some former Custodians:
Mrs. John Marlor (1899)

---

Classes:
A picture of an early Larkin School Class

---

School History:
Built in 1894 by Joel Lane who also built the original Chester Times building at 5th & Market Streets.

Larkin School was closed in June 1975 and was destroyed by fire on September 1, 1977. The remains of the structure were demolished the following year.

The following sketch on the naming of the school is from the Manual of the Public Schools of the City of Chester, PA, compiled from "standard authorities" and with the assistance of Henry Graham Ashmead, Esq.:

"John Larkin, Jr., was for many years one of the leading citizens of Cheater and of Delaware County. He was born in Concord Township, October 3, 1804, and died at Chester, July 22, 1896. For nearly fifty years he was closely associated with the business interests of Chester, and prominent in its political and social life. For eleven years he was a member of the borough council of Chester, and president of this body for six years. On the organization of the city government he became the first Mayor of Chester, and held the office for six years, after which period he declined a re-election.

"The section of Chester in which he was a resident during his later years was earlier known as Larkintown. It was Mr. Larkin who opened the present Broad Street [9th St.] to travel by taking down panels of fence across his own land. Many of the houses now standing in the vicinity of this street were erected by him. The Graham School was for many years called the Larkin School, until, on the completion of the new granite building, the Directors of the school district thought it adviseable and appropriate to transfer the name of the most prominent resident of the neighborhood to its finest schoolhouse.

"A crayon portrait of Mr. Larkin adorns the assembly room of the Larkin school."

Note: Mr. Larkin was present at the laying of the school's cornerstone.


---

Recollections:
The following poem was submitted to the Delaware County Daily Times during 1988 when the remains of the building were being demolished. At the time, the newspaper reported that the author was "believed to be a former Chester resident who now lives in Phoenixville." Our thanks to Lucinda Cooper for sharing this with us:

Larkin School

They're tearing down the dear old school
Where first we went to learn;
The gray stone walls will soon be gone,
Not ever to return.
Its usefulness is lost, they say,
We want the site to build.
Little they care for us who knew
A way of life they've killed.
The architectural gem we had,
So rugged and so strong,
Gave pleasant thoughts to all who passed
Throughout the years so long.
In a world of ever greater change
Why can't there be a few
Reminders left of glories gone
In a life that once we knew?
Why must we throw away at last
What vestiges remain
Of old times, ways and happy days
That never come again?
It seems almost a sacrilege
To wantonly destroy
What meant so much in time gone by,
To every girl and boy.

- Joseph Guest, Phoenixville

---

"My father, Abe Soifer, attended Larkin School in 1921-22 before going on to Chester High School where he played football, basketball and baseball. He later played football at Allentown Prep and Temple University.
He remembers two teachers at Larkin, Mrs. McGowan who was a music teacher and Mrs. Weir who taught history. His football coach there was Mr. Worst. Ted Ryser, a student at Chester High School at the time, coached basketball. My father says that Mr. Pickering was principal earlier than you have him listed as he was principal of Larkin when my father attended in 1921. My father played full back at Chester High School and end for Temple University which was a powerhouse in the early 30's."
Many thanks to the following for providing additional information for this page:

3 - Sara Rounds

5 - Bob Vaughan
If you have any information and or pictures that you would like to contribute about this school, please forward it to john@oldchesterpa.com
---
© 2000, 2001, 2002, 2003, 2004 John A. Bullock III.

This page last updated 10/18/05