Springhaven Country Club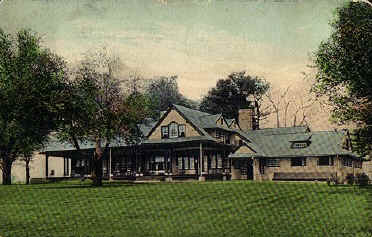 The Springhaven Country Club c. 1911
Providence Rd., Wallingford, PA
Former Presidents | Former Directors | Former Members | Former Caddies
Recollections
Although the Springhaven Country Club is outside the city of Chester, it certainly played a role in the lives of many of Chester's residents.
---
Some Former Presidents
Dr. C. H. Schoff (1924)

---

Some former Directors
Directors elected 1924:
Isaac G. Darlington
Richard J. Baldwin
Percy Kane
Harry Lee
J. R. Sproul
Warren Tyson

---

Some former Members
Some former Caddies
Martin R. Beatty (1963, 64, 65)
Albert Lee (1924)
Harry Wilson, (Chairman of Caddy committee 1924)

---

Recollections:
"I lived in Swarthmorewood between Chester and Swarthmore and I was a caddie for several summers at the club when I was about 14-16. 1963-64-65.

I would get up at about 6:30 am and walk down Chester Rd, then under the bridge at Crum Creek in Avondale, up over a Tee and across the wet fairway grass to the club house. I think the Club Pro was name was Ted Bickle (?). I remember sitting on the benches under the trees with lots of other teenage kids waiting to be called for a "loop" by the Caddie Master name Art. The older professional caddies stayed in the caddie shack along the first fairway. I first started carrying single bags then doubles. They let us play free on Mondays when the club was closed. Double bags brought a caddy $10.00 for 18 holes. I also remember shagging balls on the range at the front of the clubhouse. We used to dump the members bag of practice balls and then run down field and pick the balls up as he hit them. We got 2 bucks for that detail. I think the club champ back then was a Bob Albertus (?) and I remember being a caddie in his group with Bob and Jack Nylon (?) and a man named Welsh who owned a car dealership. Anyway I have fond memories of my time as a caddy at the Springhaven club."

Martin R. Beatty, Atlanta, mrb50@bellsouth.net

---
If you have any information and or pictures that you would like to contribute about the history of the Springhaven Country Club, please forward it to john@oldchesterpa.com
---
© 2000, 2001 John A. Bullock III.

This page last updated 10/18/05