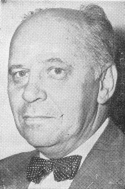 Photograph courtesy of
Alice Ritter,
rettira@aol.com
Karl E. Agan


(A biographical sketch from the annual Thanksgiving Day football game program by Pauline Lerman, CHS '53)
Contributed by Alice Ritter, rettira@aol.com
Karl Engel Agan, popular and esteemed principal of Chester High School, recalls many experiences from his high school days in New England which contrast sharply with conditions today. One of the most striking differences was the complete absence of organized activities such as school-sponsored clubs and football teams. Nevertheless, says Mr. Agan, the high school boys and girls of those days had many good times because they themselves made them. The list of games and activities in which they participated despite the lack of school support is certainly impressive. Baseball and basketball were after-school sports, and wintertime in the Vermont hills provided an ideal setting for ice skating, tobaggoning, snowshoe excursions, and many more such pastimes. Social affairs were in the form of afternoon teas and corn roasts; and when financial difficulties arose, the self-reliant youngsters of those days promoted their own motion picture benefits in order to raise the necessary funds. One activity however, known as the J. R. Sherman Oratorical Contest, aroused great interest throughout the community. It was held in the spring in the village hall and was attended by everyone in the village.
Mr. Agan's freshman year in high school was spent in Bennington, Vermont, and the following three years in Port Henry, New York, a summer resort. He has pleasant memories of that period. Particularly fond of social studies and languages, Mr. Agan recalls "Caesar's Gallic War" as a favorite textbook; and, with a chuckle, he remembers the fellowship and fun he and his classmates knew during their noon hour, for, cafeterias being nonexistent then, one either carried his lunch to school or went home to eat. Of his teachers, Mr. Agan especially remembers Professor Burke, then principal of the Port Henry High School, who offered much helpful advice to him in his high school years. His most remarkable recollection, which will undoubtedly surprise many of the present generation, was the size of his graduating class - two boys and three girls. Each member of the class had an office, and Mr. Agan was the class treasurer. He also spoke at the commencement exercises and accompanied the rest of his miniature class on their class trip to Washington, D. C. After graduation, having won the Wallace T. Foote Scholarship, he entered Union College in 1911.
Mr. Agan did much more than attend school; he gained experience of the adult world through various employments. During his high school years, he worked in a grocery store, a bakery shop, and as a section hand on a railroad. For the impressive amount of fifty cents a night, he also ran the film in a neighborhood theater. While in college, he worked in a pants factory and in a power house.
There are, of course, lighthearted moments in everyone's schooldays, and there were many of the same in the high school days of our distinguished principal. Mr. Agan amusedly recalls his first date. She was the belle of the school, but there happened to be a rival for the fair lady's attention. It is a most interesting story; but, unfortunately, because of lack of space details must be omitted.
Mr. Agan, observant father of two and grandfather of four, particularly stresses one point. The boys and girls of his high school days, without the counseling advisers and the organization of present-day clubs, made and enjoyed their own good times. The students of 1952, he feels, are indeed fortunate to have so much that the young people of his high school days lacked. Nothing like this amazing football contest existed then, and the existence of similar sports events throughout America today is to Mr. Agan a cause for rejoicing and appreciation.
[Obituary]