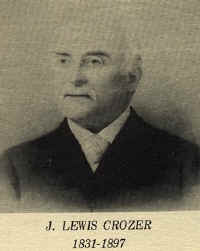 J. Lewis Crozer
Photo courtesy of
Chuck Phillips, Tucson, AZ
J. Lewis Crozer


(A biographical sketch taken from One Hundred Years, The Delaware County National Bank Chester, PA 1814-1914)
Years in parentheses are years of service as a Director of The Bank of Delaware County and/or The Delaware County National Bank
John Lewis Crozer (1867-74-87-89), son of John Price and Sallie (Knowles) Crozer, was born at West Branch, Crozerville, Aston township, July 17, 1831. A lad of fifteen, he entered his father's office, where he acquired practical and exact knowledge of cotton manufacturing, and when he became of age, was admitted to the firm of John P. Crozer Sons, a partnership wholly separate from the firm of John P. Crozer & Son, of which Samuel A. Crozer was the junior member. After the death of John P. Crozer, the elder, the former co-partnership was continued for many years, comprising J. Lewis, Robert H. and George K. Crozer.
In 1869, when Upland was incorporated, J. Lewis Crozer was elected a member of the Borough Council, serving until 1872, and re-elected to the same office in 1876. When the Crozer Theological Seminary was founded in 1868, J. Lewis Crozer was elected its treasurer, and continued until 1893, a consecutive period of twenty-five years when his precarious health compelled him to relinquish the trust.
Annually it was his custom on graduation day at the Seminary to make a contribution of $20,000 to its endowment fund, which aggregated, in his life time, nearly $500,000. Large as that sum is, it does not represent Mr. Crozer's benefactions to that institution. Whenever needed, he made generous gifts apart from his regular annual donations to enlarge the scope and usefulness of its work. He was one of the original stockholders of the Chester Street Railway, and mainly through his assistance the experimental project of a street railway in the city was given a practical test. Mr. Crozer died at Upland, April 7, 1897, aged 65 years.
By his will, apart from other liberal bequests to charitable uses, he directed that half a million dollars should be employed in the erection and maintenance of a home for incurable persons and a homeopathic hospital, and a quarter of a million to build, endow, and maintain a substantial free library in the City of Chester.
Although these magnificent charities were not by the term of his will available during the lifetime of his widow, Mrs. Mary S. Crozer has caused the J. Lewis Crozer Home for Incurables and the Homeopathic Hospital to be built, equipped, and opened for the uses specified by the founder, applying to that purpose part of the income of the estate accruing to her without in anywise impairing the principal, which will go to the institution at her death.

[Obituary]