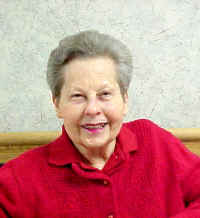 Alice Perkins Smith
Photo courtesy of Richard Perkins Smith, son
Alice Perkins Smith


(A biographical sketch by Rich Smith, only child of William X and Alice P. Smith)
Alice Perkins Smith, who is the only honorary member of the Southeastern Pennsylvania Chapter of the American Guild of Organists (AGO), has had a long illustrious musical career. Her parents met in Sharon, Wisconsin (her mother was an exceptionally fine soprano and her father played the fiddle) and they married before moving to Laredo, Texas on the border with Mexico where Alice was born.
Alice loved music from an early age, always singing and having music in her house. She attended private schools in Laredo and her elementary school initiated a "Rhythm Band" where she played piano. Alice's high school orchestra wanted her to play during lunch, but she did not want to give that up so they had to agree to give her lunch afterwards.
Later Alice studied voice and became a soprano singer. She went off to the American Conservatory of Music in Chicago to study piano and organ under the leadership of Earl Blair, formerly from France.
When Alice returned to her childhood home in Texas, she became the organist at Christ Episcopal Church-Laredo and met and married the handsome new rector, The Rev. William X Smith. She accepted many private pupils. Following their marriage they moved to Philadelphia in the 1940's, had one child, whom they named Richard Perkins Smith, a long-time faculty member at The Episcopal Academy, and then moved to Delaware County in 1960.
Alice has had extensive musical experience in Philadelphia as a soloist, choral conductor, pianist, accompanist, recitalist, and organist and choirmaster. She prefers Steinway pianos and Aeolian-Skinner pipe organs and has played at the Philadelphia churches of St. Mary's - Hamilton Village, Holy Trinity-Rittenhouse Square, and St. Mark's on Locust St (where she performed a variety of recitals). She has also been organist-choirmaster at St.Luke's-Eddystone, Church of the Redeemer-Springfield, and finally seventeen years at Christ Church-Media. She has even enjoyed opportunities to play the huge John Wanamaker organ in Philadelphia and the amazing instrument at London's Westminster Abbey.
Alice was elected dean of the Chester Chapter of the AGO in 1966 and during her two-year tenure she oversaw the transformation and renaming of that chapter to its current, and more inclusive, name as the Southeastern Pennsylvania Chapter of the AGO. She is currently the last surviving member of the Chester Chapter and it has been her pleasure to see that regional chapter expand and grow with its new identity.
She has now retired and has enjoyed traveling to hear some of Europe's best Cathedral organs. More recently she served as honorary chairman of Christ Church Media's Centennial Organ Fund Capital Campaign, chaired by her son Richard, which successfully raised $125,000 to refurbish and rebuild that church's 1896 Hook and Hastings pipe organ. Alice is an original resident of Granite Farms Estates where she still is the first to admit that she enjoys "really good" music.
[Obituary]