Home > Obituaries > Alice Perkins Smith
Old Chester, PA: Obituaries:
Alice Perkins Smith
---
June 6, 2006
Alice Perkins Smith
Organist, 87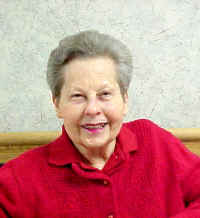 Alice Perkins Smith (nee Perkins), 87, of Media, retired Organist and Choirmaster at Christ Episcopal Church in Media PA and former founding Dean of the Southeastern Pennsylvania Chapter of the American Guild of Organists (AGO), died of complications from advanced arthritis on Tuesday, June 6, 2006 at Granite Farms Estates where she had been an original resident for well over two decades.

Mrs. Smith's long illustrious musical career was initially influenced by her musical parents Claudine Alice Northmore, an exceptionally fine soprano, and Lyle Jay Perkins, a good fiddle player, who had met in Sharon, Wisconsin. They married before moving to Laredo, Texas where Alice and her late brother Lyle were both born. Mrs. Smith loved music from an early age, always singing and having music in her house. She attended private schools in Laredo, on the border with Mexico, and her elementary school initiated a "Rhythm Band" where she played piano. Alice's high school orchestra, at Holding Institute, wanted her to play during lunch, but she did not want to give that up so they had to agree to give her lunch afterwards. Following graduation from high school, she studied voice and became a soprano singer. She subsequently attended the American Conservatory of Music in Chicago to study piano and organ under the mentorship of Earl Blair, formerly of France.

When Alice returned to her childhood home in Texas, she became the organist at Christ Episcopal Church-Laredo where she met and married the new rector, The Rev. William X Smith in 1940. She accepted many private piano and voice pupils and organized a wide range of musical programs.

Following their marriage, the Smiths moved to Philadelphia in the mid-1940's, and had one child, Richard Perkins Smith, an alumnus and long-time faculty member of The Episcopal Academy, and then moved to the Philadelphia suburbs to Delaware County in 1961.

Alice has had extensive musical experience in Philadelphia as a soloist, choral conductor, pianist, accompanist, recitalist, organist, and choirmaster. She always preferred Steinway pianos and Aeolian-Skinner pipe organs and had played at many Philadelphia churches including: St. Mary's - Hamilton Village, Holy Trinity - Rittenhouse Square, and St. Mark's on Locust St (where she performed a variety of recitals). She had also been organist-choirmaster at St. Luke's - Eddystone, Church of the Redeemer - Springfield, and finally seventeen years at Christ Church - Media. She even enjoyed opportunities to play the huge John Wanamaker organ in Philadelphia and the amazing instrument at London's Westminster Abbey.

Alice was elected dean of the Chester Chapter of the American Guild of Organists (AGO) in 1966 and during her two-year tenure she oversaw the transformation and renaming of that chapter to its current, and more inclusive, name as the Southeastern Pennsylvania Chapter (SEPA) of the AGO. She was the last surviving (and the only honorary) member of the Chester Chapter and it had been her pleasure to see that regional chapter expand and grow with its new identity. The SEPA chapter distinguished her with a tribute recital in her honor a few years ago.

Following her retirement she and her husband enjoyed traveling to hear some of Europe's best Cathedral organs. More recently she had served as honorary chairman of Christ Church Media's Centennial Organ Fund Capital Campaign, chaired by her son Richard, which successfully raised $125,000 to refurbish and rebuild that church's 1896 Hook and Hastings classic pipe organ. Alice was one who would always admit that she enjoyed "really good music".

She was predeceased in 1976 by her husband, William, and is survived by her son, Richard, of Media, PA and by two nephews and a niece all from TX.

A choral memorial service will be held at 10 AM on Saturday, June 10th at Christ Episcopal Church, Media and burial will be private. Rather than flowers, memorial contributions may be made to the Centennial Organ Fund of Christ Episcopal Church, 311 South Orange Street, Media, PA 19063-3111.

PLEASE NOTE: Her late husband's name was properly written as WILLIAM X SMITH (with no period after the X since it was his middle name and not his middle initial).

Thanks to Richard Smith, son, for sharing his mother's obituary.
---
If you have any information and or pictures that you would like to contribute about this individual, please forward it to john@oldchesterpa.com
© 2006 John A. Bullock III.

This page last updated 02/24/07