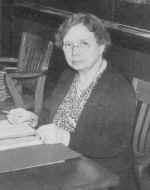 Photograph from the Chester High School Class of 1938 Annual courtesy of Helen Stauffer Hess, Swarthmore, PA
Miss Florence Williams


(A biographical sketch by Charles Seltzer from the Chester High School Class of 1938 Annual courtesy of Helen Stauffer Hess, Swarthmore, PA )
Miss Florence Williams' Retirement
When Miss Florence Williams decided to retire and handed her resignation to the School Board, Chester High School lost one of the most able and most respected teachers that ever taught here. For forty-nine years Miss Williams taught in the public schools, and built up an enviable record as a history, English, and public speaking teacher.
Miss Williams was interested in extra-curricular activities, and served as adviser to the Literary and Dramatic Societies and the school publications. It was because of Miss Williams' excellent supervision that the SPECTRUM won such distinctive honors in school competition. The Annual and the Welcome both began their flourishing careers under her tutelage.
Her public speaking classes were the most interesting and helpful ones in the school, and no doubt it was due to her coaching that Chester High School students won regional honors in the National Oratorical Contest in 1925, 1926, 1927.
Miss Williams, the class of June, 1938, hopes that you find great happiness in your well-merited rest.
[Obituary]