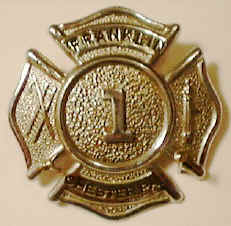 Franklin Fire Department Badge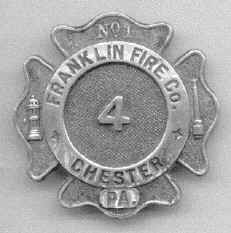 James O'Donnell's Badge
courtesy of Joe O'Donnell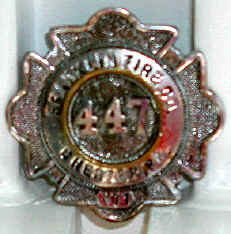 Franklin Fire Department Badge
Courtesy of Anthony R. Guzzo - 2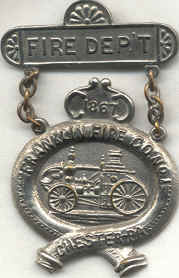 Franklin Fire Department Medal

Franklin Fire Company
Mary St. & Concord Ave.
Chester's first Fire Company,
Instituted November 20, 1867; incorporated February 22, 1869
First steam fire engine purchased in 1874
Mascot (1925): "Ned", an eskimo puppy named for Ned McCarey
"I have a newspaper article from the Chester Times, dated Wednesday, January 3rd, 1883. It lists the newly elected officers of the Franklin for the year. They are:" - 10

President- John L Hoffman
Vice President- Edwin F Baker
Secretary- Benjamin D Ayers Jr.
Financial Secretary- William Newell
Treasurer, George L Horning
Solicitor- O.C. McClure
Chief Engineer- Thomas Brooks
Assistant Engineers-Edward Baker and Joseph Bardsley

Investigating Committee- Edward Baker, O.C. McClure, and Isaiah Newell

Auditing Committee- William Slemons Jr., Samuel Phillips, and Thomas Brooks

Directors for six months-James Hasin, William M. Ford, William McCully, William E. Wood, Thomas Morris, R.H. Henderson, Edward Baker, Frederick Dye, and William H. Williams.
---
Known Members:
Name
Dates
Position
Comments/Recollections
ALLEN, John B. "Doc"
c. 1870 - 1925 - ?
Had been an active member for 55 years in 1925
AGOSTINELLI, Dominic - 6
d. 1989
AYARS, Ben Jr.
President
[Picture]
BONACQUISTI, Emilio - 2
c. 1965
Asst. Director of Rescue Squad
BONACQUISTI, Vince - 2
Adviser Franklin Ambulance Service 1975.

Director of Rescue Squad c. 1965

CREILLY, Bill - 3
DeNOFIO, Salvidore - 8
"My father, who passed away in 1993 was a very active member of this Fire Company up until his death. This included being the secretary and taking care of business for at least the last 10-15 years of his life."
ELIA, Joseph - 2
Foreman c. 1965
ELLIS, Joseph (Buddy)
One of the oldest members
FUSCO, Joseph (Sonny) - 5
[Picture]
GUZZO, Anthony R. Guzzo
1964 - 1967
HIORTH, George
Driver 1925
JIMISON, Robert
[December 4, 1945 news article]
JOHNSON, James Johnson
Currently Deputy Commissioner
LAMBERT, Sr., Raymond "Count"
Also transferred to the new "Paid" department until his retirement in 1993.
McCAREY, Edward
President c. 1903
McCAREY, Ned
A former president 1925

Mascot (1925): "Ned", an eskimo puppy named for Ned McCarey

McCAREY, Timothy
President December 1945
McCLELLAND, Thomas
Later a Chester Fire Chief
MacDONALD, Joseph
Later a Chief of the paid department until his death
MORELLI, Carl - 2
President c. 1965
O'DONNELL, Sr. James - 7
"James O'Donnell, Sr. of Franklin St. above 3rd was fourth on the roll of Franklin Fire Co. This was confirmed in his obituary in the Chester Times on Mar. 18, 1915. He married Bridget Duffy in 1871. He and his family were listed in the 1880 census as living at 406 Concord Ave. His O'Donnell ancestors living in Del. Co. still have have his badge #4"
Joseph O'Donnell
PERRARA, Mario - 5
[Picture]
PILEGGI, Tony - 5
[Picture]
PITECCA, Johnny - 5
[Picture]
RILEY, Herbert L. - 6
1946 - ?
SCARPATO, Frankie - 5
[Picture]
SHIVELEY, Harold - 2
Became 2nd Asst. Chief in 1967
SMITH, Bob - 5
[Picture]
STACKENI, Tom - 5
[Picture]
SWANSON, Bernard "Stump" - 4
"My father was one of the many men who risked their lives at the Wade Dump Fire, and for that he paid the ultimate price. He died of cancer in 1979."

- Carmella Swanson, daughter

SWANSON, BoBo - 2
SWANSON, Donald - 2
Vice President c. 1965?
SWANSON, Mary - 4
EMT
TENUTO, John - 5
[Picture]
THOMAS, Joe - 5
[Picture]
TOWNSEND, Harry - 9
WEIGAND, Elmer
Member since 1920
Assistant chief since January 1940

"Elmer was my grandfather and used to tell my father and myself stories about fires. I believe he was a past chief. He used to tell us that he remembered being a boy in Chester and seeing a boardwalk for side walks and he remembers seeing the fire apparatus being pulled by horses."

- Elmer's grandson, Michael MacCall, BUBBA55900@aol.com
See also a List of Deceased Members of Chester Fire Departments courtesy of Florence E. O'Bryan, FOBionicBlonde@aol.com
---
Recollections:
"On behalf of my dad [Joseph (Sonny) Fusco] I also wanted to mention that the Franklin Firehouse was on Concord Avenue and maybe ask your readers if anyone remembers the firehouse dog that was accidentally hit and killed by one of the fire trucks leaving the station. The dog was so well loved that it was placed in a casket and laid out at the firehouse. This was sometime during the 1940's."
John Fusco, JFF21@rcn.com
[Editor's note: Here are some links to the newspaper article about "Tippy's" funeral:]
Funeral for "Tippy", the Franklin Fire Co. mascot who died in the line of duty.
John Swanson, Jr. & Tippy
---
A recollection from Browneyes122053@aol.com:
"Also my grand father was a member of the Franklin Fire Department. I can remember that on Memorial Day they would always have a service for the veterns and they would have food and everybody had a nice time. That was in the good old days, I was young but it left and impression on me how everybody got along."
---