Home > Businesses > Mills > Irving & Leiper Manufacturing Co.
The Irving & Leiper Manufacturing Co.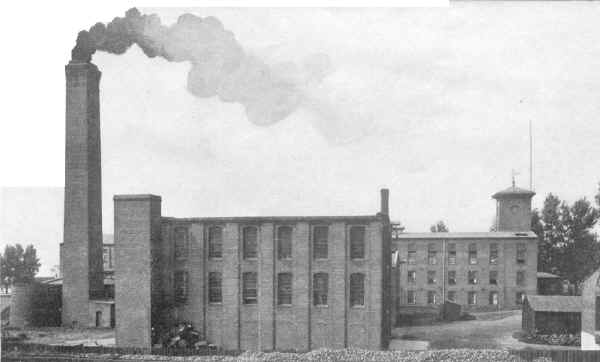 Photo above from Souvenir History of Chester, PA
under the auspices of the Board of Trade
Published by George M. Burns, Philadelphia, PA 1903
courtesy of Terry Redden Peters
Presidents | Other Employees | Company History | Recollections
---
Presidents:
1903 Officers:

William A. Irving, President
D. Edwin Irving, Treasurer, Secretary and General Manager

---

Other Employees
George M. Reed - 1

Louis Henry Talley - 1


---

Company History:
Manufacturers of Cotton Yarns
Chester, Pa.

In 1856 James Irving erected a mill at the foot of Franklin Street for manufacturing cotton yarns. In the year 1860 he took Thomas I. Leiper in partnership, under the firm title of Irving & Leiper. This firm was continued till 1878, when the firm was incorporated under the law of the State of Pennsylvania as the Irving & Leiper Manufacturing Company, for the manufacturing and selling of cotton yarns and fabrics, and has continued under the same title to the present time.

The plant today has about 15000 spindles, manufactures warps, underwear and hosiery yarns in numbers from 8S to 20S, producing from 1,000,000 to 1,250,000 pounds of the above high-grade yarns yearly.


---

Recollections:
"I think Irvings Worster Mill was located at the bottom of the hill at the end of 25th Street. It was owned by William Irving. I'm pretty sure he lived in Wallingford. My Dad, Casciato Electric, and I did their electrical maintenance work back in the fifties. It was built along the creek and it still had the water way running thru the building where the water wheel that powered the line shafts that powered the machines. The line shafts were still used but they were now powered by large electric motors. Every time we got a flood the first floor would go under water and we would have the job of taking the motors that got wet out to electric motor service on 6th street in Chester to have them baked in the ovens. I remember a lot of the people that worked there but names are all forgotten. My dad had a bunch of pictures taken in one of the floods. If I can find these I'll scan them and send them to you."

- Vince SJ56

---
Many thanks to the following for providing additional information for this page:
If you have any information and or pictures that you would like to contribute about Irving & Leiper Manufacturing Company in Chester, please forward it to john@oldchesterpa.com
---
© 2002, 2003, 2005 John A. Bullock III.

This page last updated 10/18/05