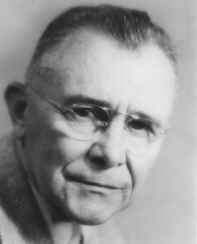 Col. John Howard Bennett
Photo courtesy of his daughter,
Betty-Jane Bennett Smith,
Smith9697@aol.com
The Swarthmorean
Friday, July 21, 1978

Colonel John Howard Bennett


Colonel John Howard Bennett died on July 16 at the Pine Run Health Care Center, Doylestown. He had been a resident of the Pine Run Community for a year. Prior to moving to Bucks County he had been a long time resident of Swarthmore.

Born March 7, 1895, at Chester, he was the son of Richard and Emma Ann Bennett. He attended the University of Pennsylvania and Drexel Institute of Technology.

Colonel Bennett served 34 years on active and reserve duty in the Army before retiring in 1952. He was commissioned a second lieutenant in the quartermaster corps in 1917, and was a veteran of both wars. During World War II he had quartermaster assignments in this country, North Africa, and Naples, Italy. He received a decoration, the "Commenda dello Carona d'Italia" from the Italian government for "merits acquired during his stay in Italy" between 1943 and 1945. He also received decorations from Brazil for World War II and from France, during World War I.

Colonel Bennett retired in 1960 as the business manager of the Research and Development Department of the American Viscose Corporation, Marcus Hook. He was a 32nd degree Mason, Chester Lodge #236 F and AM, and Trinity United Methodist Church, Chester.

He was married to the late Esther Florence Bagnall and is survived by his daughter, Mrs. Betty Jane Smith, Wallingford; two granddaughters, Mrs. Pamela Smith Dials, Russell, KY, and Mrs. Deborah Bennett Bailey, Folkestone, Kent, England. A great-grandson Bill Edward Dials, and a great-granddaughter Heather Amy Dials, also survive.

Funeral services and interment will be held at the convenience of the family. Those desiring to do so may make a contribution in his name to the charity of their choice.


Thanks to Betty-Jane Bennett Smith, Smith9697@aol.com for sharing her father's obituary.