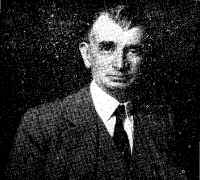 Owen Moon, Jr.
who married Margaret (Daisy) Scott, daughter of Edward Irvin & Sarah Frances (Hoyt) Scott
Photo courtesy of Mary Harrell-Sesniak, CompMary@aol.com
Owen Moon, Active Citizen, Who Died Apr. 12
(Obituary, unknown PA paper)

... For more than 30 years, he [Owen Moon who died April 13, 1947] had been identified with the Essex Rubber Company in Trenton having served as treasurer and president of the company.
For almost three decades, before 1928, Mr. Moon was associated with the Scott Paper Company of Chester, Pa., of which his father-in-law, Irvin Scott, was a founder. He had been a member of the board of directors, secretary and vice-president, and was elected to serve temporarily as president of the concern in 1927, after the death of his brother-in-law, Arthur H. Scott.
Better known in this community by his friends and townspeople were Mr. Moon's activities in connection with Upwey Farms, the Hundred Mile Trail Ride and various enterprises and civic activities here.
The foundation for Upwey was started when Mr. Moon purchased a number of small farms in South Woodstock [VT] in 1911. In the 36 years since then, he welded these purchases into Upwey Farms with Morgan and Suffolk Punch horses and Jersey cattle as his main enterprises...
Compliments of Mary Harrell-Sesniak, CompMary@aol.com