Old Chester, PA: Obituaries:
Ella Lemke Shoenfelt
---
Avon Grove
Sunday 2/7/2002
Ella Shoenfelt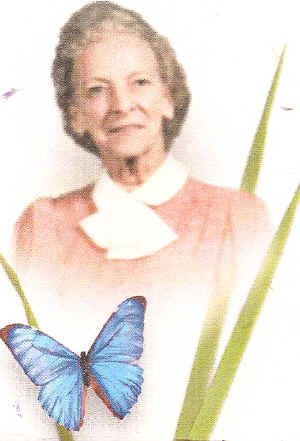 Ella Lemke Shoenfelt, 81, formerly of Ridley Park, died Feb. 4 at Jennersville Regional Hospital. She was the wife of the late Wilbur Dale Shoenfelt, who died in 1980, and with whom she shared 36 years of marriage.

Born in Chester, she was the daughter of the late Harry Sioux and Cora Elizabeth Walker Lemke.

Ms. Shoenfelt lived in Ridley Township for 40 years, moving to Chatham one year ago.

A graduate of Chester High School class of 1939, she worked for Bullock Pharmacy and Baldwin Locomotive as a private secretary. Ms. Shoenfelt retired from Martin's Drapery workroom after 30 years as a seamstress. She was the last person to sew Betsy Ross' Drapes in the Betsy Ross home.

Ms. Shoenfelt enjoyed jigsaw puzzles, doll collecting and sewing.

She was a member of Springfield Bible Church for 32 years, where she was active coordinating banquets and with a girls group known as The Shining Lights.

She is survived by daughter Barbara Stafford of Waterloo, N.Y.; son Karl Shoenfelt of Chatham; brother Robert Lemke of Vera Beach, Fla.; and grandchildren Kimberly Collignon of Maryland, David Leonard of North Carolina, John Leonard of Texas and William Shoenfelt of West Grove.

She was preceded in death by brother Frank Lemke.

A funeral service will be celebrated at 11 a.m. on Feb. 8 at Cleveland & Gofus Funeral Home, Inc., 221-223 Pennsylvania Avenue in Avondale. Family and friends may attend her life celebration from 9 a.m. to 11 a.m. earlier that day. Interment will be private. Memorial contributions may be made to Family Christian Inspiration, Inc., PO Box 258, Bala Cynwyd, PA 19004.

Thanks to Barbara Stafford, daughter, for sharing this obituary.
---
If you have any information and or pictures that you would like to contribute about this individual, please forward it to john@oldchesterpa.com
© 2009 John A. Bullock III.

This page last updated 02/11/09