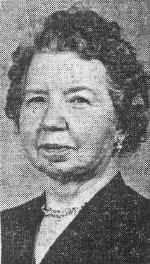 Mrs. Emma L. Showalter
Photograph courtesy of
A. Harold Showalter,
son,
hshowalter@pa.net
Delaware County Daily Times
Monday May 7, 1973

Emma L. Showalter
ex-school head's wife

Mrs. Emma L. Showalter, wife of former Chester Schools Superintendent Addison H. Showalter, died Saturday at her home, 842 S. Cedar Crest Blvd., Allentown, after a brief illness.

Mrs. Showalter, the former Emma L. Morthland, was born in Wellsville, York County, and had lived many years at 154 E. Parkway Ave., Chester, before moving to Allentown about three years ago.

She was a member of the Parkside United Methodist Church and the New Century Club of Chester.

She and her husband celebrated their 50th wedding anniversary last Dec. 25 and received a citation from the Pennsylvania House of Representatives.

In addition to her husband, she is survived by a daughter, Mrs. John G. Hayes of Allentown; a son, A. Harold Showalter of Hershey; a sister Mrs. Alverda Orner of Haverford Township; seven grandchildren and one great grandchild.

Services will be 2 p.m. Tuesday at the Roseboro Funeral Home, 6th and Walnut Sts., Denver, Pa. Burial will be in Fairview Cemetery, Denver.

Calling hours will be 1 to 2 p.m. Tuesday at the funeral home.


Thanks to A. Harold Showalter, hshowalter@pa.net, for sharing his Mother's obituary.
---