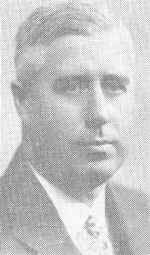 Addison H. Showalter
Photograph from Dewey-Horace Mann School "Season's Greetings from the Principal December, 1936"
courtesy of
A. Harold Showalter,
son,
hshowalter@pa.net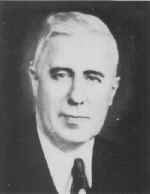 Addison H. Showalter
Photograph courtesy of
Mary Constantini Larner,
Rere628@aol.com
Addison H. Showalter


A biographical sketch contributed by his son, A. Harold Showalter, hshowalter@pa.net
Addison H. Showalter was born May 23, 1893 in Reinholds, Lancaster Co. Pa. His parents were the Rev. Daniel W. Showalter and Lizzie Showalter.
Addison graduated from Millersville State Teachers College, Franklin & Marshall College, U of P, Harvard University, & Temple University Law School.
On the 25th of Dec. 1922 he married Emma Lena Morthland, a graduate of Goldey Business School. The wedding took place in Wellsville, York Co., Pa.
On Oct 5,1923 a daughter Ruth E. was born and on April 16,1931 a son A. Harold was born.
Ruth E. Showalter graduated from Chester High in 1941 and Millersville State College in 1944 and became a teacher at Smedley Jr. High from 1944-1945 & Chester High from 1945-1948. Her husband, John G Hayes, taught at Chester High from 1949-1951.
A Harold Showalter graduated from Chester High School in 1949 and Franklin & Marshall College in 1953. He is presently retired from being an insurance executive.
Addison was the principal of the Dewey-Mann School in Chester, Pa. from 1921 to 1942. He was Asst. Supt of Chester Schools from 1942-1950. The Supt. was F. Herman Fritz . From 1950-1958 he served as Supt. of Chester Schools & his Asst was Charles Long.
Addison was a member of the Chester, Pa. School Board from 1959-1969. Addison was the Pres. of Sproul College, Chester, Pa..
Addison & Emma lived at 154 E. Parkway Ave. Chester Pa.
In 1955 Addison was honored by a testimonial dinner at the Springhaven Country Club for establishing the first Safety program in the country.
On June 2, 1958 a Testimonial dinner was held for Addison and at the dinner it was announced that the new School would be the Addison H. Showalter Jr. High School.
On May 5, 1973 Emma was buried in Fairview Cemetery, Denver, Pa.
On Dec.28,1985 Addison died & was buried in Fairview Cemetery, Denver, Pa.
Addison & Emma loved Chester & when he was over 90 he would drive from Allentown, Pa. to attend Iron Workers S&L board meetings.
[Obituary]
---
Addison H. Showalter's résumé (prepared at the time he applied for the position as Assistant Superintendent of Chester Schools):
(Courtesy of his son, A. Harold Showalter, hshowalter@pa.net )

EDUCATION:
Ungraded Rural School, Lancaster Co., Pa. 1898-1910
Denver Boro. High School Diploma, 1913.
Millersville, PA. State Normal School, Diploma 1916.
Camp Taylor, Ky., Field Artillery Officers' Training school.
Honorably discharged December 1918.
Franklin & Marshall College, Lancaster, PA. A.B. Degree 1919. Major Course, Philosophy.
F & M. College, Lancaster, PA. Graduate Course, A.M. Degree 1920. Major Course, Education.
University of Pennsylvania, A.M. Degree, 1922. Major Course Education.
Harvard University, Summer 1922, Courses in Education.
Temple University, Law School, 1922-1925.
University of Pennsylvania, 1926-1937.
Total number of credits considerably more than required for Ph.D. degree.

EXPERIENCE:
East Earl, Lancaster Co., Pa., Rural School, 8 grades, 1913-1914.
Salary-- $280.00

Millersville State Normal School, Model School, under close supervision, l915-1916.

Stewartstown, Pa., High School Principal, 1916-1917.
Salary -- $640.00

Malvern, Pa.. High School Principal, 1917-1918.
Salary -- $900. 00

Lancaster City Boys' High School, English Dept. l919-1920.
Salary -- $1300. 00

Sellersville, Pa., Supervising Principal of Schools, 1920-1921.
Salary -- $2000.00 (Sellersville has lst class High School)

Chester, Pa., Supervising Principal, Dewey-Horace Mann School.
Salary -- $2200 to $3250.00 Years 1921-1942 inclusive.

CERTIFICATES HELD:
a. State Normal chool Diploma (permanent)
b. Permanent College Certificate

PERSONAL CHARACTERISTICS:
Age, 48, Height 5'-9", Weight 180# Married; two children

ORGANIZATION AFFILIATIONS:

Life Member National Education Association
Member, Pennsylvania State Education Association
Member, Phi Kappa Tau Fraternity
President, Chester Teachers' Association, (1924 to 1927 incl. 1933-1934)
Vice President, West End Free Library, Chester, Pa. (1925-1927)
Chairman, Delaware County Committee, American Legion, 1933-1934
Commander, American Legion, Sgt. Alfred Stevenson Post #190, year 1930-31
Secretary, Delaware County Republican Executive Committee, 1930-32
Burgess, Prospect Park, Pennsylvania, 1934-1938
Director, Chester Kiwanis Club, 1932
Member, Delaware County Historical Society
Director, Chester Boys Club
Member of Church Board, Methodist Episcopal Church
President, Mens Bible Class. Prospect Park M. E. Church, 1931-33