Chester Times
June 18, 1934

Robt. Wetherill Dies at his Home in His 87th Year
Prominent Banker and Industrialist Here for Many years

Famed as Engine Builder; Had Varied Interests in Long Career

Robert Wetherill, Sr., eminent industrialist and banker whose endeavors have been allied with the growth of this city for more than sixty years, died this morning at 3 o'clock at his home, Twentieth street and Providence avenue, where he had been seriously ill for the past four weeks. Mr. Wetherill was in his eighty-seventh year. Last winter he suffered an attack of pneumonia but through the efforts of his physician and through his own indomitable will, he struggled through a long illness and recovered.

The death of Robert Wetherill, Sr., brings to an end a career which was highly familiar to nearly all the older residents of this city and one which was recognized by bankers as outstanding. He was the outstanding wealthy man of this city and county for many years and throughout the years of his opulence he had so managed his enterprises and finances that they were of benefit to large groups of men who found employment through his ingenuity and enterprise.

Born in 1847

Born in Lower Merion township, Montgomery on September 4, 1847, he was educated in the Philadelphia public schools and the Upland Normal school.

He came to this city as a young man and served his apprenticeship of four years with Miller and Allen, machinists and foundrymen of this city. During this time he showed himself to be a sharp observer as well as a good and steady worker and he acquired a working knowledge of the business in all its ramifications, serving not only in the heavy labor end but working his way to the headship of the draughting department.

Equipped with this thorough knowledge of one who has worked his way from the bottom of the ladder of an industry, he erected a small foundry and engine building plant in this city in 1871 and the following year formed a business partnership with his brother, Richard Wetherill, under the firm name of Robert Wetherill and Company.

This new enterprise was in close proximity to the location of the place where he had learned his trade, which was situated on Broad street, west of Walnut street, while the new Wetherill Company plant was located at Sixth and Upland streets. At the time the business was first opened it was known as Wetherill, Keesey and Wildey Company but the change in name was made when the Partnership with Richard Wetherill was effected and Robert Wetherill and Company remained a standard name in the engine building trade until a few years ago when the enterprise was sold to former Governor William C. Sproul, who operated it for a time, then sold it to the Sun Shipbuilding and Drydock Company upon the formation of this concern.

This industry was the home of many innovations in engine construction and the company held exclusive control of the famous Berry safety boiler, an invention of the late William H. Berry, of this city, and was the birthplace of the Corliss engine which has world-wide reputation and a model of which was displayed in the Centennial Exposition in 1876.

Industrial Connections

Industrial connections of Mr. Wetherill extended far beyond his own engine building organization as was evidenced by the fact that in 1886 he was elected President and manager of the Standard Steel Castings Company, located at the time in the western section of this city. He served for many years as a director of the Cambridge Trust Company, now the Chester-Cambridge Bank and Trust Company, and he was active as one of the directors of this bank, which he had helped to found, and was chairman of the board at the time of his death. He had also served as president of the Argo Leather Company. Some of the other companies with which he served in official capacity were as follows: American Water Works and Electric Company, American Pipe and Construction Company, Springfield Consolidated Water Company, New York and Pennsylvania Company, General Refractories Company and the Aberfoyle Manufacturing Company. He was also identified with the coal mining industry and was connected with the textile industries of the south. His real estate holdings both here and elsewhere were unusually large. After giving up the Wetherill plant, he was called in as receiver for the American Pipe and Construction Company and straightened out the financial affairs of this concern. After the receivership he was made president of the company and saved the business for the stockholders.

Member of Old Family

The son of Robert and Phoebe Ann (Delany) Wetherill, Robert Wetherill was able to claim himself a descendant by direct lineage of one of the families whose history is most intimately linked with the development of this section of the United States. He was a direct descendant, of Joran Keen, to whom in 1644 the Swedish Crown patented the territory upon which much of the present city of Chester is located. In the year 1879, on February 27, Robert Wetherill was married to Mary B. Gray, daughter of William C. Gray, who was colonel of the 119th Pennsylvania Infantry during the Civil War. Mrs. Wetherill died three years ago.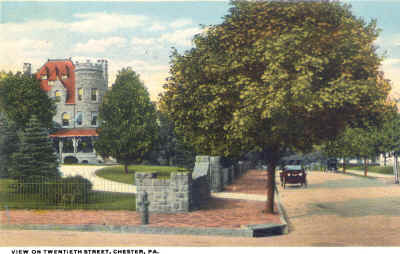 Robert Wetherill home, 20th & Providence Ave.
Photo courtesy of Terry Redden Peters in memory of her grandparents, Frank & Bertha Packer
The Wetherill home, an ornate stone mansion constructed by Robert Wetherill and located on a plot of ground at Twentieth street and Providence avenue, which occupies an entire block of ground with the main structure, garage and servants' homes, and its attractive lawns and formal gardens has for years been considered one of the show places of this city.
In his relations with his friends, his employees and the members of his family and his business associates, Robert Wetherill was one who always appeared to understand the problems of his fellow men with sympathy and a genuine friendship and interest, and he was held in universal esteem by all who had come in contact with him. Men who learned their trades alongside Robert Wetherill at the workbench or who later found employ in his enterprises always had a fond word for his capabilities and his personality.
He held membership in several local clubs and in the Union League of Philadelphia.
Besides his brother, Richard Wetherill, and one sister, Mrs. Phoebe Harman, one son, Robert Wetherill, Jr., of this city, and five daughters, Mrs. T. Woodward Trainer, of this city; Mrs. J. Renwick Kerr, of Rose Tree; Mrs. J. Philip Van Keuren, Mrs. Gideon M. Stull and Mrs. Arthur Copeland, all of this city survive. Another daughter, Mrs. Phoebe Nolting, died a few years ago at her father's home.
Funeral services, which will be in charge of Right Rev. Francis M. Taitt, Bishop of the Pennsylvania Diocese of the Protestant Episcopal Church, and Rev. Stanley V. Wilcox, rector of St. Paul's Protestant Episcopal Church, will be held at the Wetherill residence, Twentieth street and Providence avenue, on Wednesday morning at 11 o'clock.
---