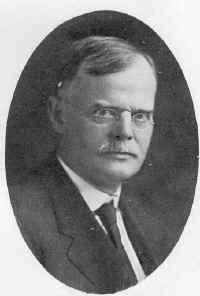 Photograph from
One Hundred Years, The Delaware County Nation Bank Chester, PA 1814-1914
Oliver Booth Dickinson


(A biographical sketch taken from One Hundred Years, The Delaware County National Bank Chester, PA 1814-1914)
Years in parentheses are years of service as a Director of The Bank of Delaware County and/or The Delaware County National Bank
Oliver Booth Dickinson (July 21, 1890-1914), son of E. W. and Mary (Vassar) Dickinson, was born at Dayton, Ohio, September 25, 1857. When his son was nearly five years old, his father accepted a call to the pastorate of the Marcus Hook Baptist Church, and in the schools of that borough and the Chester Academy, Mr. Dickinson received his primary education, preparing for college at the Peddie Institute, Hightstown, N. J.
He entered the Sophomore class of the University of Lewisburg, now Bucknell University, in the fall of 1874. His father died in December, 1875, and Mr. Dickinson, whose inclination was for a journalistic career, was assured by Charles A. Dana that upon the latter's return from Europe, he would find a place for the young man on the editorial staff of the New York Sun.
Mr. Dickinson came to Chester, and his brother, the late William H. Dickinson, suggested that, in the meanwhile, O. B. Dickinson could read law in his office, which he did, and was admitted to the Bar of Delaware County, December 3, 1878. He rose rapidly to the front ranks of the profession. When only twenty-seven, he was the nominee of the Democratic party for the President Judgeship of the District, and notwithstanding the overwhelming Republican vote in the county, he was defeated by a small majority only by Judge Thomas J. Clayton. In 1913, Mr. Dickinson was a candidate for the Superior Court bench, and while not nominated throughout the State, he carried the City of Chester and County of Delaware by over ninety per cent of the total vote cast at the State-wide primaries.
In 1886, he was the candidate of his party for Congress, and in 1892 a delegate to the Democratic National Convention at Chicago, which nominated Cleveland for the third term. Again, in 1894, he was nominated for President Judge, and received a large Republican vote. Mr. Dickinson's opening for the defense in the celebrated Pfitzenmeyer murder trial in 1891 is regarded as one of the most brilliant forensic efforts in the judicial history of the county.
In 1914, President Wilson appointed Mr. Dickinson a Judge of the United States Court for the Eastern District of Pennsylvania. When he was sworn in to his office, almost the whole Delaware County Bar attended the court in Philadelphia, and that body afterward tendered him a complimentary banquet May 16, 1914, and later the like compliment was extended to him by the Bar of Philadelphia.
Judge Dickinson is a member of the Penn Club, of Chester, Chester Club, Springhaven Club, Wilmington and Ridley Country Clubs, Delaware County Institute of Science, American Academy of Political and Social Science, Pennsylvania Academy of Fine Arts, National Geographical Society, and Delaware County Historical Society.
[Obituary]