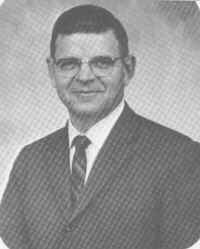 Photo of Rev. MacQueen
courtesy of
Chuck Phillips, ccphill@earthlink.net
Rev. David A. MacQueen


(A biographical sketch from an Upland Baptist Church booklet commemorating Rev. and Mrs. MacQueen's Silver Anniversary at the church in 1972. )

Rev. David A. MacQueen, pastor of the Upland Baptist Church, Upland, PA, ministers to the spiritual needs of a 500 member congregation and serves as leader in the church's many activities. Yet he finds time to give service to the townspeople, as well as neighboring communities in many ways. He participates in all civic activities of the town, promotes recreation for its youth and in case of trouble or disaster he always has time to help out - whether it be for a wayward boy or girl or involving any segment of the community, regardless of the nature. He has served as a teacher at Ellen Cushing Junior College, director at Camp Sunnybrook, chaplain of the Philadelphia Naval Brig, and has recently retired as Commander in the Naval Reserve. He still serves as chaplain of the Upland Fire Company and the American Legion Post. He is director on many boards of a varied nature. In addition, he finds time for writing, hobbies and companionship with his family.
Mr. MacQueen, 52, came to Upland in 1947. This was his first assignment as a pastor. He is the son of a minister and descendant of John Alderson, first Baptist minister in what is now southern West Virginia. In 1775, it was Western Virginia. He was born in Williamstown, WV, attended public schools in West Virginia, received his A.B. and M.A. degree from West Virginia University and entered Crozer Theological Seminary in the fall of 1941. After receiving his B.D. degree at Crozer in 1944, he did a year of postgraduate work at the University of Pennsylvania and became a Navy Chaplain.
He serves as a member of the Board of Crozer-Chester Medical Center and Trustee of Colgate Rochester / Bexley Hall Crozer (formerly Crozer Theological Seminary), Secretary of West End Ministerium, President of the Chester Council of Churches and Secretary and Director of the Upland Recreation Board. In 1969, he served as General Chairman of the Upland Centennial Celebration.
Mr. MacQueen in married to the former Dorothy Jane Henderson of Rochester, PA, a graduate of the West Virginia University School of Journalism. She runs a close second in church and civic activities. Besides their son David, 24, they have a daughter, Nancy, 21, and another son, Mark, 18.
Per Riddledot80@aol.com, Rev. MacQueen served at Upland Baptist Church from 1947-1984. He died on January 27, 1989.
[Obituary]