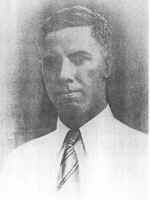 Ward B. Pearson
Photograph from the 1939 Chester High School Annual
available at Delaware County Historical Society
Ward B. Pearson


(A biographical sketch by Wallace Journey, June 1939, from the 1939 Chester High School Annual available at Delaware County Historical Society.)
"As the time approached for school to open last fall, the students and the faculty were shocked to hear of the accident which caused the untimely death of Ward B. Pearson. Mr. Pearson had built a cabin and was grading the land. Exactly what happened no one knows, but it is believed that, as he stepped from the tractor, he was hit by a car.
Mr. Pearson, a graduate of Dickinson College, came to Chester High School in September, 1925. He became a member of the Latin department, and specialized in teaching Caesar's Gallic Campaigns. Mr. Pearson since his youth had been an excellent tennis player, and served at school as the tennis coach. The team, under his tutelage, was undefeated for two consecutive years.
Besides his work as an instructor, Mr. Pearson was the Sunday School superintendent of Parkside Methodist Episcopal Church. He was a firm believer in developing the physical, mental, and spiritual characteristics of the future generation.
The seniors who were members of his Latin classes, and those who had other opportunities to know him, wish to honor a fine man and an excellent teacher by devoting this page to his memory."
[Obituary]