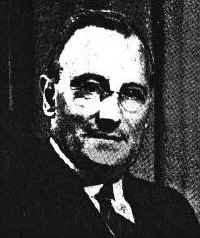 Rev. Louis James Velte
Photo courtesy of
Bob Velte, ROBERTHV@AOL.COM
Dr. Louis James Velte,
Pastor of the First Baptist Church, Chester, PA 1930-1943


(A biographical sketch by Robert Velte, ROBERTHV@aol.com)
Dr. Louis James Velte, Sr. was a truly good and generous man, a real Christian gentleman who tried throughout his entire life to put into practice the teachings of Jesus. His kindness helped many people overcome sorrow and despair and his example influenced many lives for the good. He was devoted to his wife and children, and he knew how to enjoy life thoroughly. His death at 69 was felt as a great loss by all who knew him

He was born in Kensington, a section in Germantown, a district of Philadelphia, Pennsylvania, on 12 September 1881. His father, Conrad Velte, had come to the USA from Germany as a very young child and became a workingman. His mother, Katherine Willig, was born in Philadelphia. Louis had an older brother, William, and a younger sister, Mary, known as Mamie, who lived for many years with the family in Chester.

Louis was very poor in his youth. He spoke sometimes about working in Philadelphia as an errand boy in a paper mill and as a shipping clerk in a candy factory where he packed boxes and did other menial tasks. To keep warm at that time he said he stuffed newspapers in his shoes because they were full of holes.

By far the most formative event of Louis's youth was his connection to the East Baptist Church of Philadelphia, at Girard and East Columbia Avenues, and especially its minister, Dr. C. H. Woolston. This contact led Louis to pursue higher education and eventually become a minister of the Baptist Church. Because his schooling was insufficient for admission to college, he took preparatory studies at the South Jersey Institute in Bridgeton, New Jersey. It is not clear how he financed these studies, but he presumably had help from Dr. Woolston and the East Baptist Church to whom Louis always felt deep gratitude. In 1907, at the advanced age of 26, Louis started studies at Bucknell College in Lewisburg, Pennsylvania leading to a B.A. degree in 1910. During his college years he earned money by preaching at various country churches throughout the school year, and by working summers as a trolley conductor in Atlantic City, New Jersey. A fine picture exists of Louis in his conductor uniform on the trolley steps, surrounded by other young conductors, and full of the pride and strength of youth. He was a very handsome, very imposing young man.

During college Louis fell in love with fellow student, Charlotte Hulley. She lived off-campus in Lewisburg with her father, three brothers and one sister. All the Hulleys, including father William, were students at that time. Father William had worked as a weaver since the age of twelve, but in January 1903 at the age of 43 he had started college as a Freshman in the same class with his son Elkanah. Charlotte's mother had died in 1900 when Charlotte was thirteen, and, as the oldest girl in the family, Charlotte had assumed the duties of mother of the clan while simultaneously attending the Girls' Seminary for two years and then Bucknell College. Louis's courtship of Charlotte led to their marriage on 24 June 1912, three years after Charlotte graduated from Bucknell (B.A.), and two years after Louis graduated (B.A.).

After Bucknell Louis studied at Crozer Theological Seminary in Upland, Pennsylvania and received the degree of Bachelor of Divinity in 1912. Simultaneously in that year he earned the M.A degree at the University of Pennsylvania in Philadelphia.

In 1910 Louis had taken a summer position as pastor to frontier communities in Laramie, Wyoming. He nourished some hopes at this time of going as a Baptist missionary to China, but when Charlotte learned that she had tuberculosis in her lungs and needed a change of climate for recovery, Louis accepted a permanent pastorate in Laramie and later in Cheyenne, Wyoming. Louis's extreme devotion and faithfulness to Charlotte, and her reciprocal devotion to him are evident in his diary which also shows that when they were apart he wrote to her almost every day and she was constantly in his thoughts.

His four years in Wyoming to "win souls for Christ" was moderately successful in terms of the numbers of attendees at his Sunday services and persons who were baptised, but his salary in Laramie was only $ 1,000 for the year. The church collections on which Louis depended to supplement this small income were pitifully small- often carefully noted in Louis's notebook and usually around seventy five cents per week. (The lowest collection noted in his diary was forty five cents- and this was at a service when there were 22 people present!) But he never complained. Louis's diary for this period reveals that he rode a great deal, participated in round-ups and brandings, often camped out, and led a rather adventurous and athletic life in the wilds of Wyoming.

When Charlotte's health improved the family moved in 1916 to Chicago, where Louis continued his studies at the Divinity School of the University of Chicago, . At the same time he was pastor in Chicago at the West Pullman Baptist Church and also did intermittent preaching at other churches.

In December 1917 Louis began searching for meaningful work in the U.S. Army which was then rapidly expanding and preparing to enter World War I. He received the following recommendation from the Camp Kearny, New Jersey "General Secretary".

"I feel in my heart that Velte should be in army work here as Y.M.C.A. secretary or a chaplain, and I believe that if his qualifications were but known he would have an immediate opportunity in either field.... I knew Mr. Velte for two years while he was Pastor of the Baptist Church at Laramie, Wyoming. He is a man of splendid physique, fine presence, and hard worker and is utterly consecrated to the cause of Christ. He is an able preacher and a thoughtful student. He reads much and thinks hard but cares most of all for his personal contacts with men. He would be unusually successful in war work ..."

When America finally entered World War I in 1918 Louis enthusiastically enlisted in the U.S. Army as a chaplain, and received his commission as a 2nd Lieutenant on 1 March 1918. His first post was Camp Grant in Rockford, Illinois where he was assigned to the 333rd Machine Gun Battalion. On 14 September 1918 he sailed for France with this unit on the SS Olympic. World War I ended in November 1918 while the Blackhawk Division (of which the 333rd Machine Gun Battalion was a part) was still on its way to the front. Louis therefore did not see any real combat action. His diary indicates that his unit spent most of its time in Dun near Verdun in north-east France, and that he saw graves everywhere, bodies blown to bits, "glory and horror", 10,000 "Boches" gassed at Deadmen's Hill at Verdun.. He presided at many funerals of American soldiers, and also held services at German prisoner of war camps. On 13 May 1919 he and his comrades returned to Hoboken on the SS Tiger from St. Nazaire and he was reunited with Charlotte and son Jack in Chicago in June and discharged on 21 June 1919..

In a letter dated 15 October 1918 with the letterhead "On Active Service with American Expeditionary Forces, APO 916" Louis wrote, "Well, another day nearer home. Oh, how I wish it were the last one to spend in France. Darling, you and Jack are constantly on my mind.l...When I get home I'll tell you all about my experiences. Then I think I'll close my mouth and endeavor to forget the war. I sometimes think that too many public men will for years talk and lecture on the war. I really think the dreadful thing should be forgotten as far as the recital of things is concerned.... When I return I want to study up on my line of work and endeavor to give a constructive contribution along moral and religious educational lines. We must think more of the moral and religious and less of the material...Christianity must be not negations but affirmations, be additions and not subtractions from life. Not in running away from life but jumping into life is the only program to follow."

From 1919 to 1921 Louis was pastor of the Tabernacle Church in Chicago. Louis's diary at this period contained frequent comments about the success of his sermons, such as "Sermon inspired many kind remarks"; "Most heartening remarks about sermon. It greatly heartened me"; "Grand spirit at meeting";." I felt possessed of God's spirit"; "Great spiritual service"; "Great spiritual awakening at morning service". There can be no doubt about the sincerity of Lou's religious feeling.

Louis was pastor of Mirriam Park Church in St. Paul, Minnesota from 1921 to 1926, and then the First Baptist Church of Rutherford, New Jersey from 1926 to 1930 when he was called to the First Baptist Church of Chester, Pennsylvania. Chester remained the Velte home until 1943 when the family was split up by World War II. The First Baptist Church was the main pastorate in the life of Dr. and Mrs. Velte, and it was from this church that Louis was buried in 1950. The move to Chester was a homecoming of sorts for both Louis and Charlotte, because she had been born and lived her early youth there, and Louis had attended Crozer Theological (Baptist) Seminary, located on the edge of Chester.

Louis soon became one of the most prominent religious leaders in Chester. He was also active in state and denominational affairs, however he was most well-known for an institution he and Charlotte created for the young people of Chester, the Happy Hour. This was a very popular entertainment before the age of television. It was held every Friday evening in the church Sunday School room for young children of all faiths, and consisted of stories, slide shows, short movies (such as cartoons and "Our Gang"), hymns, and even short prayers. Admission cost five cents and about one hundred children usually attended. At Christmas every child received a box of toys as a gift. The Happy Hour was widely-known and praised. At the 125th Anniversary of The First Baptist Church in 1988, a short church history was published which said the following:

"Rev. Louis J. Velte came to this church in May 1930 in the strength and vigor of his early ministry, with unbounded vigor of body and mind, buoyant enthusiasm for the work of the Lord and an intense love for youth. During the pastorate of Rev. Velte the 75th Anniversary of the church was observed with appropriate services for one week. The church organ was completely remodeled at this time. The Happy Hour at First Baptist was a "first" in Chester. Under the direction of Rev. Velte children from the entire area came every Friday night for one hour, heard a Bible Story, joined in the hymn singing and saw a travelogue, then received a taffy, all for the sum of five cents. This was carried on later by a number of ministers throughout the county."

Financially, Louis and Charlotte always had to struggle. His starting salary at First Baptist was $3,200 per year and after 13 years rose to about $ 3,500. However, he also got free parsonage, light, gas, telephone, garage rent, and moving expenses, plus one month paid vacation each year. As always he also had a small supplementary income from weddings and funerals. Despite this relatively low salary the family always had an automobile; spent summers on its own land in Maine; sent sons Jack and Bill to Haverford College (somewhat assisted by scholarship aid and part-time employment) and also sent both for their college Junior year to Munich, Germany, and during the Depression fed countless hungry tramps at the back door of the parsonage. In addition they never felt poor.This was possible only because of very careful management by Charlotte, limiting purchases to the most essential things, and some unavoidable and expensive borrowing from the Household Finance Corporation.

In 1940 Charlotte's brother, Elkanah Hulley, was a trustee of Bucknell University and through his intercession, Bucknell granted Louis an honorary degree as Doctor of Divinity on 10 June 1940 at the Buchnell graduation ceremonies. The following citation was read from the graduation stage in Lewisburg:

"Mr. President: I present Louis James Velte for the degree, Doctor of Divinity. Mr. Velte graduated from Bucknell University in 1910 with the Bachelor of Arts degree. In 1912 Crozer Seminary conferred upon him the Bachelor of Divinity degree and , in the same year, he was granted the Master of Arts degree by the University of Pennsylvania. During the academic year, 1917-1918, he continued his graduate studies at the Divinity School of the University of Chicago.

"He is doubly linked to his Alma Mater for he married Miss Charlotte Hulley, of the class of 1909.

"His professional responsibilities have included a term as Chaplain in the United States Army, and pastorates in Philadelphia, Pennsylvaniua; St. Paul, Minnesota; Rutherford, New Jersey; and Chester, Pennsylvania. Since 1930 he has been pastor of the First Baptist Church of Chester.

"In all of these responsibilities he has acquited himself with insight, effectiveness, and devotion. He has become a wise and trusted leader in the affairs of his denomination as well as the wider religious association of our state. He is Chairman of the Program Committee of the Pennsylvania Baptist Convention and President of the Philadelphia Minister's Conference. Quite recently he has been President of the Baptist Minister's Union of Pennsylvania. For many years he has been the organizer and guiding genius of a remarkable religious education program for the boys and girls of the city of Chester, regardless of denominational affiliation.

"Because of what he has been able to accomplish as a leader in the area of church and community religious life; because of his able and devoted labors in the area of our American life which calls for skilled and heroic leadership; and because of what he is in his own person; I take great pleasure in presenting Louis James Velte for the degree, Doctor of Divinity."

When World War II started and the Selective Service System (SSS) began drafting soldiers, Louis was appointed to the Chester SSS board which decided who should be drafted and who not. He was very patriotic and proud to serve. When America entered the war in 1941 his son Bill was already in the service as a Navy flier and son Jack was about to enter the Army Air Corps, and Louis began exploring whether he could again become an army chaplain. He even went to Washington to seek a chaplain position in one of the military branches, but because he was already 60 years old in 1941 (three years over the permitted age) he was not eligible. Instead, in 1943 Louis received the offer of a civilian position as one of six religious consultants to servicemen under the auspices of the Army-Navy YMCA/USO. He held this counselling position for three years in a number of American cities, including Columbus, Georgia; Miami, Florida; Hattiesburg, Mississippi; and New Orleans, Louisiana.

In March 1943 Louis provided a brief description of his USO duties in a letter to son Bob: "...I am known as a moral and religious advisor. I have an office here in the large Army and Navy YMCA/USO building. Soldiers, their wives, sweethearts, parents come to see me and consult on all kinds of problems- home, marriage, religion, moral situations, home-sickness, down in the dumps, etc. I am learning a great deal more about human nature. This is a great ministry to all kinds of folks- Catholics, Jews, Protestants. Then, Bob, I am visiting the camps, meeting chaplains, army officers, etc. I'll be speaking in army chapels and various churches and organizations...The USO is a combination of the government and six religious agencies...You see, the real motive behind the USO Club idea is to develop the right kind of recreational, educational, moral and religious life among the soldiers..."

In 1946 Louis was in charge of the World Mission Crusade for New Jersey for a short period, and then accepted an offer to be co-pastor with Dr. Gordon Poteat at the First Baptist Church in Lewisburg, Pennsylvania where Louis and Charlotte had attended college four decades earlier.

Louis remained at Lewisburg for four years. In 1950, when Louis was 69 years old, he and Charlotte drove to Daytona Beach, Florida to explore the possibility of retiring in Olds Hall, a Baptist retirement home set up by Mr. Olds, founder of the Oldsmobile Company. On 22 March 1950, about a week after they arrived, Charlotte took an evening walk from their rented quarters. When she returned she found Louis sitting as she had left him, with his newspaper on his lap and his pince-nez glasses on the bridge of his nose, and quite dead. The death certificate listed myocardial failure as the cause of death.

Charlotte accompanied Louis's body on the train from Daytona to Chester, Pennsylvania for burial. The funeral service was held in the First Baptist Church in Chester, which was crowded with hundreds of mourning people for the occasion. The body was then interred in the Chester Rural Memorial Cemetary where Charlotte's father and other relatives also lie buried. Charlotte died on 15 July 1978 in St. Petersburg, Florida at the age of 92. She was cremated and her ashes were strewn in Tampa Bay.

On 2 April 1950 the First Baptist Church of Lewisburg also held a memorial service for Louis. It is reported here at some length because of the light it sheds on this remarkable man.

"This is a Memorial Service in which we desire to hallow the memory of a dear friend and co-worker. We want to thank God for his life and the friendly helpful service which he has rendered to so many in this community. We want to express in song and prayer and speech our sense of victory in the life and faith of Dr. Louis Velte. He would not want us to be sad on this occasion. His life was a demonstration of Christian faith and devotion. By the Grace of God he has won a victory over death and he gives us a fresh assurance of the validity of our faith in our own immortality. We cannot think of Lou except as a living presence continuing to bless and sustain us. Here is a pre-Easter assurance of the validity of our Easter faith.

"We shall sing hymns which our good friend loved. We shall join our hearts in prayer and know that he is with us in spirit. We shall listen to the singing of great Christian music which he loved. We shall try to express our appreciation of his achievements and his service.

"Prayer: O God, our Heavenly Father, we bow before Thee in humility and supplication and thankfulness...We never cease to thank Thee for the manifestation of Thy grace and power in the lives of men and women...And especially do we thank Thee for our beloved friend and pastor, whose life we commemorate and whose memory we hallow this afternoon. For all the inspiration which he has given us, for the comfort he has brought to us, for the love which he has bestowed upon us, for the service which he has rendered to so many people and causes and in so many places, we give Thee most hearty thanks. May his life be to each of us an alluring example of what, by Thy grace, we may all become...

"There is little more that needs to be said, though much more could be said. We are too often slow to say these things when mortal ears can hear and hearts be warmed by the realization of services gladly and freely rendered, of achievements so nobly attained, and of inspirations so richly shared. But even at this late moment we covet the opportunity to pay tribute where tribute is so clearly due and to voice our sense of rich values gained and of a deep loss sustained. For in the 'going home' of Dr. Velte we are made very conscious of both a great blessing and a great loss. We have been richly blessed by his life and service. Here is a value we shall never lose. But we are also keenly aware that a beloved friend has left the familiar manifestations of his daily life and we miss him in ways of which we can scarely be aware.

"I want to speak on behalf of this church, as well as of myself, in deep appreciation of the man who has been our pastor during these recent years. He and his wife have visited us in our homes and have brought a benediction of friendliness, understanding, and Christian charity. He has stood beside us in sorrow and tribulation. He has counseled us where the way has not been clear and his counsel has served again to show us the way and to make clear the goal toward which we move. He has shared our joys of family reunions and the fulfillment of hopes long cherished. He has broken to us the symbolic bread of life and made us more conscious of the divine love so richly poured upon us through Christ our Lord and Master.

"This church has had great ministers and beloved pastors. Among these the name of Louis J. Velte has now taken an honorable place. He has poured out his soul on our behalf. He has led us all before the Throne of Grace. He has shown us the Father in the only way in which he thought was truly significant- the demonstration of a life committed and devoted in service to his fellows.

"Louis Velte is not dead in any sense that really matters. He is alive again in newness of spirit and freshness of influence and in power of Christian example. We salute him in the achievement of a greater and finer immortality, and consecrate ourselves to the unfinished task of the redemption of our world as the children of God and brothers of the Christ."

One of the things Louis loved included his private study,and when on vacation in Maine at the family camp Biljabob, he transformed the front lawn into a study with a card table and all his papers where he worked in the sun on his sermons for the coming year. During these summers he loved to be invited to preach at the Sandy Point Congregational Church high on a hill above the Penobscot River. Food was his greatest weakness, and everyone knew that Pastor Velte had a wonderful appetite; he was fed specialties by all the church ladies whenever they had the chance. When his appetite began to fail circa 1949 everyone knew that he was seriously ill. He had no real hobbies, except his profession, but did have a beloved radio show, "Amos and Andy", two blacks played humorously and sympathetically by two whites.

Louis had a fairly close resemblance to Franklin Delano Roosevelt. In the early 1940s while Roosevelt was President of the United States Louis was somewhere in New England riding in the back seat of a convertable with friends when by prearrangement without Louis's knowledge they stopped the car and invited some bystanders over to chat with the President. As recounted later by some of the participants, Louis went right along with this impersonation and talked briefly as if he were FDR himself. He loved games and "a good clean laugh".

It is hard to believe that Louis could ever have told a real lie, done anything vicious to harm anyone, taken part in anything shady or evil. He just didn't have that in him. He never smoked or drank in his life, and, although often sorely provoked by unchristian church members and by permanent financial straits, never uttered an oath, and probably never had a real enemy. He was sincerely humble- when he prayed, he did so on his knees, but always in private. Louis was a genuinely good and moral man.