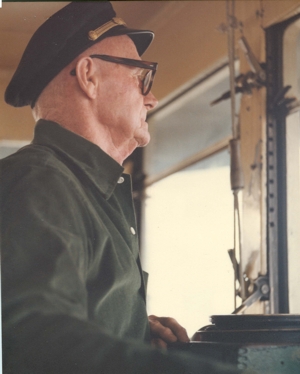 Captain Ward Perry Moser
Photo courtesy of Robert Bocchino, Haverford, PA
Mr. Bocchino retains ownership of all submitted original visual and audio material and they are not to be used for commercial purposes without permission.
Ward Perry Moser
"I attach herewith a high resolution JPEG file of a photograph I made of Chester-Bridgeport Ferry Captain Ward Perry Moser then 71 years old in his wheelhouse on January 29, 1974 – several days before operations ceased on February 1, 1974. I also possess an audio narrative* I made of the crossing and could transfer this to MP3 if you wish to have it.
P.S. I presented a copy of this photo to Capt. Moser at his home a few weeks after I made the photo."
Robert Bocchino, Haverford, PA
* Mr. Bocchino retains ownership of all submitted original visual and audio material and they are not to be used for commercial purposes without permission.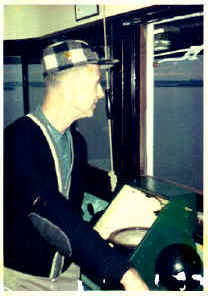 Captain William A. Webber
in the Pilot House of one of the
Chester-Bridgeport Ferries
(Photo courtesy of Helen M. (Webber) Imburgia)
William A. Webber
"My father & his twin had to leave school, I think in the 11th grade, to go to work. Times were hard & money was needed at home, so they started out as deckhands when the ferry first opened. My father, Wm. A. Webber, went on to become a First Class Licensed Pilot of Bays, Sounds & Rivers. (A Captain.) This twin brother, Arthur J. Webber, became a ticket agent & then went on to be an accountant for Sun Oil. My father worked for the ferry until 15 Jun 1968. He tied up a ferry at 11:00 PM & on this way home had a heart attack at 10th & Highland Ave. He died on Sunday (Father's Day)16 Jun 1968. I have a picture of him, in the Pilot house, on one of the ferry boats."
Our thanks to Helen M. (Webber) Imburgia (HMWEBBER@aol.com) for this information added 4/16/2000
Recollections:
June 11, 2006:
"Most of the deckhands on the ferries were full-time, but when I was a day cadet at PMC (Pennsylvania Military College, now Widener University) in the 1950's, I worked the evening and night shifts during most of one year. Our most important job was to intercept the big dump trucks as they went down the bridge approach to the ferry.

We had to make certain they stayed on the inside lanes to keep the ferry from tipping and worrying the auto passengers. After the captain blew the warning horn, I would get ready to put the chains across the end and unhook the hawsers that held the boat to the ramp. Having collected the tickets, I would enter a tiny closet room at the center of the boat, count the tickets, and deliver them upstairs to the captain.

About half way across, I would pick up a book (Chaucer, Keats, Shakespeare), read a paragraph or two, and walk to the other end to get ready to tie up and unload. Notable was the one night a loaded sand truck driver ignored my directions and swung into the outside lane. The ferry tipped severely, and, since we couldn't reload the truck, the captain instructed me to load the other side with enough cars that offset the weight of the sand truck. The truck driver was reported to his dispatcher.

Another time, when a man driving a large Buick entered, the captain came to the end of the upper deck, shouting for me to escort that S. O. B. off the boat. Obeying orders, I made him turn around and go back through the ticket booth. Captain told me later the man had just sued the Ferry Company for neglect, in allowing him to fall on the steps during a previous trip.

As winter approached and ice occasionally formed on the iron parts of the decking, I decided I might want to find other work, where studying might be a little more comfortable."

- Thanks to Dudley Erb, PMC '58, Aiken SC

P.S. although I never met him I was pleasantry surprised long after my graduation that Mr. Louis Kapelski made a large contribution to PMC and a campus building was named in his honor.

P.P.S. Mr. Kapelski had a Mr. Cornog on his management team. Does anyone know anything about his whereabouts?
---
"As a child, I frequently crossed the river on the Chester Bridgeport ferries to visit my grandparents . With great delight I crossed the Gulf of Nicoya on the very same ferry (the old "Delaware" I believe) in the 1970´s (re-named the Chuchequero) in Costa Rica. To my dismay, I recently spotted "MY" ferry, which is no longer in service in Puntareans, a Pacific port of Costa Rica. It was sunk in the mud, and only a bit of the superstructure remains."

- Thanks to DMB, Costa Rica
---
November 17, 2003:
Here is a family story about the Chester Ferry that has floated around our reunions for years. It was in much more simple times and I hope you can view the story more as an anecdote rather than as a cruelty to an animal story.

My Grandfather and several of his buddies attended a race at The Garden State Race Track. One of the races they bet on was a "claiming race," which is a race in which the horses are actually for sale.

After a few drinks (this which may or may not have been during Prohibition the timing has been lost in the story telling) they found themselves putting a claim in for one of the races...and they won.

Their day at the races came to an end, they collected their winnings and headed home. On their return trip they realized they had no other way to transport their horse, so they tided it to the bumper of their car. In those days cars may not have been as fast as a horse, but what they lacked in speed they made up in stamina...unfortunately for the horse.

Their route home took them aboard the Chester Ferry...horse in tail. Upon their arrival on the Chester side of the river they started their car up, but found the horse was no longer "with us"...in the spiritual sense. They cut it lose and drove home.

My hope is that there might be someone else who can recollect this story and shed more light on it for the next family reunion. As with many family anecdotes that get passed around year after year, all of the participants have for lack of a better phrase "joined the horse." Hopefully someone else out there will have first or second hand concurring information. The names involved are Regan, Welch, and Miller.

Please email me any information you are able to unearth.

Sincerely,

Kevin Regan
---
"Perry Moser was a Chester Ferry boat captain for many years. I believe he may have been the "senior " ferry boat captain. His grandson was a childhood friend and a classmate of mine. They both lived very close to us as we were growing up.
Sometimes we would find a way down to the ferry boat slips and wait for "Captain Moser's" ferry to pull into the dock. We would then pay as "walk-ons " and go aboard his ferry. Most of the time "Captain" Moser would see us and motion for all of us to come up to his wheelhouse on the top deck. Once we were away from the dock, "Captain Moser" would let one of us hold on to to the big spoked wheel and steer the ferry for a short while. He was always standing close by watching us.
Most of the time the ferry boat had a manned wheelhouse on each end. One person would steer the ferry across to New Jersey then the other person would steer it back to Chester. ( At least that is how I remember it on our little trips with the Captain.) We would go into the private cabin of the Captain and sit and rest with him as the ferry made the return trip. We would ride the ferry, up on the top deck, back and forth for maybe 8 or 10 crossings, sometimes more."

- Duane Stephens