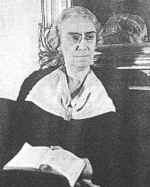 Miss Mary Raymond Jones
Photograph from the 1937 Chester High School Annual
available at Delaware County Historical Society
Miss Mary Raymond Jones


(A biographical sketch by George Jones, June '37, Catherine Ridgik, June '37, Vera Lewicki, February '38 and Helen Szatkowska, June '37 from the 1937 Chester High School Annual available at Delaware County Historical Society.)
"Use your head before the ink." What memories those few words of simple philosophy bring! Memories of our beloved and recently departed teacher, Miss Jones. How pleasant it was to study under one who always had a good word and a smile for the class and a witty saying for every occasion! But, for all her wit, she was very thorough.
Mary Raymond Jones was born in Lewisburg, Pennsylvania. Her father was a clergyman, and her grandfather was Dr. Bliss, at one time president of the Crozer Theological Seminary of Upland.
She had experience in teaching primary and grammar grades before coming to Chester High School. Many were the years she devoted here to her honorable profession, cultivating young minds in the commercial subjects. A large number of successful business men in this vicinity can trace their success partly to the knowledge gained under her excellent supervision.
Aside from cultivating young minds, Miss Jones found time for the cultivation of flowers and plants. One could always find her in or about the garden of her late residence.
Her many family connections - General Tasker Bliss was an uncle - her experience in the business world, and her general culture, made her broad-minded and wide-awake to the problems of the day. Her sense of humor and her sympathy made her a delightful companion and leader, and gained her many friendships. Her pupils respected her for her fairness, honesty, and scholarship.
Father Time has again stolen a march on us. He has balanced his books with our deceased friend and adviser, but we are sure he found her accounts in good condition.
[Obituary]