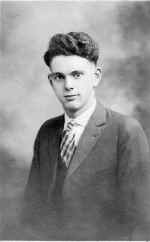 John A. Bullock, Jr.
1925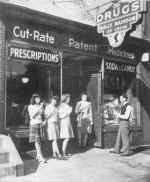 Bullock's Pharmacy
Photo courtesy of
Margaret Minner Turner,
Brookhaven, PA
from the 1945
Chester High School Annual
Pictured left to right:
Jackie Fisher, Bea Neibert, Sara Bishop, Betty Jackson, John Bullock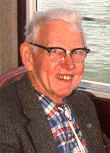 John A. Bullock, Jr.
1995
Top & bottom photographs courtesy of
John Bullock,
john@oldchesterpa.com
Son
John A. Bullock, Jr.


(A biographical sketch by John A. Bullock III.)

John A. Bullock, Jr. was born on January 16, 1906 in what was then known as Moore, (now Prospect Park), PA. He was the only son of John A. Bullock and Elizabeth Broomall Priest Bullock.
John's father was a harness maker by trade and the family moved several time during his childhood as his father went in search of employment in a dwindling trade. John spent his early childhood in Moorestown, NJ and then returned with his mother and older sister Helen to live with his mother's parents, the Priests, in Trainer, PA while his father continued to travel in search of work.
In Trainer, John's early jobs included delivering newspapers and later working in a grocery story in Marcus Hook. As a teenager, he was developing an interest in pharmacy and approached Mr. Ralph Marin at Marin's Drug Store about the possibility of working there. It was bad timing as Mr. Marin had become discouraged with hiring teenage boys who then worked only for a short time after they were trained. However, John's persistence and true interest paid off as he got a job at Marin's and, in fact, developed a close friendship with Mr. Marin that lasted for the remainder of their lives.
John attended Chester High School and was president of his Class of 1925. Upon graduation he enrolled at PCP&S (Philadelphia College of Pharmacy & Science) and commuted by train from his home in Trainer. At that time pharmacy school was a three-year curriculum so he graduated in 1928 with the degree of PhG (Pharmacy Graduate). Some of his other early pharmacist jobs included work for Lloyd Burkholder (sp?) on Edgmont Avenue, conveniently located for him just around the corner from his high school sweetheart, Evelyn Keesey's home on 12th Street.
By 1931 John and Evelyn made plans to marry and whether a real or imagined threat, they were afraid to let the family know of their plans because Evelyn's brother-in-law Joe Jeffries had threatened to lock them up in the vault at Chester Rural Cemetery where he was superintendent if they got married. For many years John had been a member of Trinity Methodist and Evelyn had been a member of Madison Street Methodist Church since childhood. Nevertheless, in late August of 1931 all of the Chester Methodist ministers happened to be on vacation. John worked the morning of the 31st in Burkholder's Pharmacy and then in the afternoon just he, Evelyn and her older sister Emma Keesey Schlosbon ventured into Philadelphia where they were married at Arch Street Methodist Church. For their honeymoon, they drove out west and, ironically, spent the first night of their married life "on the battleground" (actually "near" the battleground) in Gettysburg, PA.
By 1932, John & Evelyn began making plans to open their own drug store. They looked at several properties including some existing stores in Chester and decided on purchasing a row house that they would convert to a store front at 720 Parker Street, just behind Chester High School. The floor was lowered in the front two rooms, a store front added, fixtures and a soda fountain were purchased and installed and they were all set for opening day on December 17, 1932. However, a leak in the soda fountain discovered the night before kept them up so late that the next morning they were still in bed upstairs when their first customer (Evelyn's middle sister Ann Keesey Jeffries), had to wake them up knocking at the door so that she could spend the first dollar!
Many of you who were Chester High students know much of the rest of the story of Bullock's Pharmacy better than I as you were an important part of its history. It became a popular hangout and lunch spot for the students and as the business grew, John & Evelyn moved their home to 517 W. 7th Street and opened the upstairs of the store for booths. Evelyn's sister Emma made sandwiches, and during the early years Evelyn herself served as one of the delivery "boys". Some time around the mid-1940's the soda fountain was discontinued.
A major event changed John & Evelyn's lives at age 44 with the arrival of their first and only child on December 6, 1950. Within a year after John III's arrival, they made plans to build a new home on Palmer's Lane in Wallingford and moved there in March of 1952.
John continued to operate the pharmacy for a total of 32 years until it was sold on December 31, 1964. For the next ten to fifteen years he would only admit to being "semi-retired". He continued in the practice of pharmacy filling in as a relief pharmacist at the stores of several of his friends around Delaware County including Lou Pescatore's Lima Pharmacy and Al Cathermine's "Cathermine's Pharmacy" in Swarthmore.
During his "semi-retirement" and eventual admitted retirement, he also greatly enjoyed spending more time with his civic and church organizations. He was a charter member of the Chester Optimist Club, a member of the Masonic Lodge and, during later years was active in their "High Twelve" organization. He also enjoyed participating in the Gideons.
Active in his church since childhood, he took on greater responsibilities as Sunday School Superintendent at Madison Street, Lay Leader, and eventually also became a certified Lay Speaker and served on the Official Board. This took a great deal of his time especially leading up to, during and after the merger of Madison St. with Christ United Methodist Church.
He and Evelyn continued to enjoy traveling and at around age 70 purchased their first camper, a small used Airstream trailer. They had two trips in it with their son to Mexico as well as several trips to local campgrounds, visits to friends in neighboring states, and a winter sojourn for several seasons in Haines City, FL. In fact, they enjoyed the camping lifestyle so much that at around age 80 they traded in the little Airstream for a mini motor home!
By their mid-80's, Evelyn's health and mind declined but John remained determined to care for her to the best of his ability right in their own home. There were some challenging times but he managed to keep her at home until about the last two weeks of her life. She passed away in her beloved city of Chester at what was then still Sacred Heart Hospital on March 11, 1992.
After Evelyn's death, John continued to be active although life was certainly not nearly as enjoyable without his partner of 60-plus years. By May of 1993 he made the decision to move closer to their only son John in North Carolina. He stayed active with his various interests and even went to church the day before he died suddenly on Monday morning (Memorial Day), May 29, 1995.
I can think of no more appropriate way to close this biography of my father than to quote a poem by Henry VanDyke which he memorized in his early years and served him as an inspiration for the rest of his life. I often heard him recite it:
Four Things
Four things a man must do
if he would have his record true:
To think without confusion, clearly
To love his fellow man, sincerely
To act from honest motives, purely
To trust in God and heaven, securely.
[Obituary]