Buckman Airport Memories 1941-1951
Courtesy of Charles "Dutch" Fehl
In May of 1941, when I was two months away from my fifth birthday, we moved into an unfinished twenty four-foot by twenty four-foot house on Anderson Avenue (1222), which later became Fehl's Mom and Pop grocery store. All I had to do was look west, and on the opposite hill was the Buckman Airport. The Second World War started the following December, and the Airport became a storage depot for military vehicles, Jeeps, half-tracks, 4X4 trucks, etc., for the Ford Motor Company in Chester. My father worked for Ford driving those vehicles to Buckman Airport from the Ford plant. He would come from Ninth Street, up Anderson Avenue (then a dirt road) to the Airport, as Anderson Avenue ran directly into the Airport entrance. Sometimes, my father would pick up me and my buddies and give us a ride in a Jeep or half-track. There were thousands of vehicles stored there, and a military guard post was built at the Airport entrance at Township Line Road. As kids, we got to know the soldiers who guarded the airport and would hang out at the guard shack. We would sit around a pot-bellied stove, fascinated by the war stories we were told.
The war ended and returning military pilots flocked to the Airport as did I. I was about nine years old and spent every available moment helping to push airplanes in and out of the hangars and sometimes they would give me an airplane ride. I never asked for a ride but did not refuse an offer of one.
A field adjacent to the south end of the north-south runway was the pickup station for the Adams Airmail Pickup System. My friends and I would help the Adams representative assemble two poles from shorter sections he carried in his car trunk. The poles when erected stood 14 feet high and were placed twenty feet apart. At approximately 4:30 PM, the aircraft could be seen at first as a dot coming from the south. This dot became a Stinson Reliant SR-10F. When it arrived, a mail pouch was dropped, and we kids would chase and retrieve it. Sometimes, the drop would miss and end up in the underbrush. One pouch was lost for a year or more. It was found in the culvert pipe beneath the airport driveway. The aircraft would then circle around and come in approximately 20 feet off the ground and snatch the rope that was attached to the mail pouch. This rope was extended between the two poles. This was accomplished with a pole extended beneath the aircraft that used a hook and winch apparatus to grab the rope, as shown in the following photograph.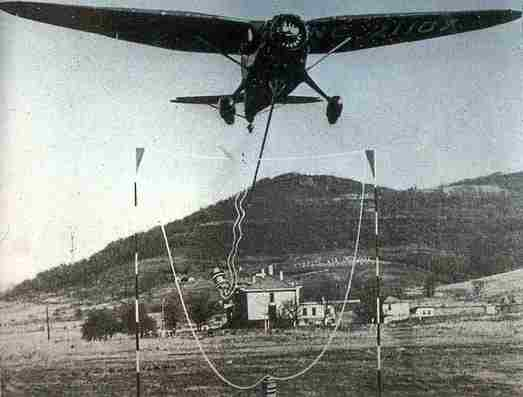 The above photo was found on the Stinson Reliant website, page 4.
The National Postal Museum website has a complete history of the Adams Airmail Pickup System. The genesis of today's US Airways was Adams Airmail Pickup (All American Aviation).
After World War II, one of the returning pilots was the father of one of my buddies. He flew C47's over the "hump" from India to China, and he had a Flying Tigers leather jacket…that was "hot stuff" for me. They lived in back of us on Chestnut Street. He would tell us stories of his experiences. His name was Robert Jackson. At that time, he was Mr. Jackson to me. I palled around with his son, who was nicknamed Stumpy. Mr. Jackson purchased a twin-engine aircraft. I cannot remember the model; however, my youngest sister and the Jackson's youngest daughter and their dolls were frequent passengers.
An air show was held every summer and was very popular. This show was attended by many people who relied on public transportation. The bus stop was at Ninth Street and Langley Avenue, with Anderson Avenue being the most direct route to the airport.
My father would position me at the curb in front of our store with a galvanized wash tub filled with ice and sodas. Do you remember grape and orange NEHI or Dad's Old Fashioned Root Beer (my favorite)? At 5 cents a bottle, they went fast.
The air show attracted visiting aircraft of various designs, both military and civilian. There was the constant sound of aircraft flying.
I remember one year that a mock attack on the airport was held by the National Guard during the air show, complete with paper bags containing flour simulating bombs being dropped from airplanes.
The airport had a restaurant/snack bar in a separate building that was opened seasonally. The building was located near the airport entrance.
I graduated from Trainer Elementary School in 1950 and was looking forward to joining the Civil Air Patrol after my July birthday. I believe that at fourteen you could become a junior member. However, I came down with rheumatic fever and spent the next three months in bed. I never did join the CAP, and during high school other activities took over.
There are two incidents that I will never forget: a parachute malfunction and a plane that crashed short of the runway.
The first incident was the parachute death of Jerry Jackson, the youngest brother of Mr. Robert Jackson. He was going to make three parachute jumps for some reason, and his first jump was successful. As he was preparing for the second jump, he came up to me and said "Here, kid, hold my watch. If I don't make it, don't sell it for less than $35." I was sitting on a chair looking at the watch in the hangar whose opening faced west. While watching the jump plane take off, I had a very bad feeling about the jump. This was about 6:00 p.m. I can still see him leaving the aircraft and slowly tumble to earth, with the observers around me yelling "pull the ripcord." The parachute never opened and he landed on Chestnut Street in front of his brother's house with an explosive sound that was heard from Linwood to Highland Gardens. When I got there, he was lying face up. I returned the watch to one of the airport personnel.
The second incident occurred on May 27, 1951, at 3:30 in the afternoon when my friend George Leary and I were in his Buckman Village backyard. From that location you could see the north end of the north-south runway. I was watching (what I believed to be) a military training plane, a Vultee "Vibrator" with open cockpits and blue and yellow paint with a shark's mouth painted on the nose coming in for a landing. As it disappeared from view, I realized it did not make the end of the runway. We started running to find it, and when we got there one other man was standing near the aircraft. I stepped onto the wing and the forward open cockpit occupant was deceased, as was the other occupant in the rear cockpit.
As reported in the Chester Times newspaper on May 28, 1951, the occupants were two World War II Army Air Force veterans, William West, 31, the pilot, and Frederick A. Henderson, 27. West had been awarded the Distinguished Flying Cross with 50 combat missions against the Japanese. Henderson served with the Eighth Air Force in Europe.
I enrolled in Pennsylvania Military College in 1960 when they started an evening division where I studied engineering. In 1961, I was hired by General Electric Company in Philadelphia, where I worked on various satellite and missile projects. I was now in the "Race for Space." I graduated from PMC in 1968.
In 1977, I transferred to the GE's Aircraft Engines Division in Cincinnati, Ohio, where I worked on jet engine heat transfer design, retiring in 1993 after 32+ years.
These are sixty plus year old recollections. If there are any errors, I sincerely apologize.