Old
CHESTER
in Delaware County, PA
OldChesterPa.com: Obituary
On the web since March 2000!
Always check our "What's New" page
Have you signed our Guest Book at "The Newsstand"?


A project of the National Heritage Foundation
What is this Foundation?
I'd like to make a donation to help support this website!
Would you like to sponsor this page?
Contacting me: - Update
I have temporarily cleared a small amount of space in my email box. However, spam continues to be a problem. To be sure you get through the filters, be sure to include the name of our city somewhere either in the subject or the body of your email.
You can contact me by phone. Follow this link for phone number. -John
Sponsor
"Today in Chester's History" on "The Newsstand"
(Only 5.00 per day)
SEARCH the website - Thousands of pages of Chester History!
What's

Photo: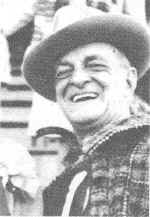 Last Name: Ferrigan
First Name: Francis
Middle Name: J (Midge)
Maiden Name:
Date of Death: June 11, 1980
Newspaper: Delaware County (PA) Daily Times
Date of Newspaper: June 12, 1980
Contributor: Bill Webster
Text of Obituary: Francis J. (Midge) Ferrigan, 81, a retired Chester bartender, died Wednesday at Wallingford Nursing Home, Nether Providence. Born in Chester, he lived in the city most of his life.

Mr. Ferrigan tended bar at many downtown Chester locations, including Sam Reuben's, Colonna's and Cohee's. He was known for his flamboyant hats and outrageous ties which he often snipped off at the knot. He was former manager of the Alpha Boat Club in the 1940s and 1950s. Mr. Ferrigan was a member of the Young Men's Republican Club, Chester; the West End Boat Club, St. Michael's Church and the Men of Malvern.

As a youth, Mr. Ferrigan was an athlete at Chester High School.

He is survived by a sister, Mrs. Gertrude F. McNally of Chester.

His funeral will be at 8:30 a.m. Saturday from the White-Luttrell Funeral Home, 240 Concord Road, Aston, with a mass at 10 a.m. in St. Michael's Church, Avenue of the States, Chester. Burial will be in Immaculate Heart Cemetery, Lower Chichester.

Calling hours will be after 7 p.m. Friday.
Notes: