Old
CHESTER
in Delaware County, PA
OldChesterPa.com: Obituary
On the web since March 2000!
Always check our "What's New" page
Have you signed our Guest Book at "The Newsstand"?


A project of the National Heritage Foundation
What is this Foundation?
I'd like to make a donation to help support this website!
Would you like to sponsor this page?
Contacting me: - Update
I have temporarily cleared a small amount of space in my email box. However, spam continues to be a problem. To be sure you get through the filters, be sure to include the name of our city somewhere either in the subject or the body of your email.
You can contact me by phone. Follow this link for phone number. -John
Sponsor
"Today in Chester's History" on "The Newsstand"
(Only 5.00 per day)
SEARCH the website - Thousands of pages of Chester History!
What's

Photo: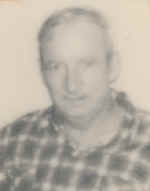 Last Name: Frank
First Name: John
Middle Name: W
Maiden Name:
Date of Death: July 30, 1975
Newspaper: Delaware County (PA) Daily Times
Date of Newspaper: August 1, 1975
Contributor: Barbara Frank Selletti
Text of Obituary: J. W. Frank; stricken at work

John W. Frank, 55, of 2604 Smithers St., Chester, an employee of Monroe Chemical Co., Eddystone, was stricken at work Wednesday and was pronounced dead on arrival at Taylor Hospital, Ridley Park.

Born in Defiance, Ohio, Mr. Frank lived most of his life in Delaware County and 27 years at his late residence.

He was employed three years at Monrroe Chemical Co. and prior to this was employed at former Bryton Chemical Co. in Trainer.

He was a Navy veteran of World War II. He belonged to the V. F. W. Post #914 since 1944.

He is survived by his wife, the former Isabel Gallagher, whom he married in 1946; a daughter, Barbara J. Frank, at home; his mother, Mrs. Anna Marie Frank of Chester; two brothers, Charles G. of Brookhaven and Raymond N. of Aston, and nine sisters, Mrs. Marie Bennett, Mrs. Jack Giberson and Mrs. Henry O'Brien, all of Chester; Mrs. Allen Reeves of Eddystone, Mrs. George Lynne of Pennsauken, N.J.; Mrs. Leroy Kane of West Chester, Mrs. David Williams of Miller Heights, Mrs. Paul Malone of 29 Palms, Calif., and Mrs. Edward Downes of Bear, Del.

Services will be 1 p.m. Monday at the Robert Moreland Funeral Home. Burial will be in Chester Rural Cemetery.

Calling hours will be after 7 p.m. Sunday at the funeral home.

Pallbearers will be Jack Giberson, Henry O'Brien, Richard Pescatore, George Manz, John Halter and Ben Halter.
Notes: