Old
CHESTER
in Delaware County, PA
OldChesterPa.com: Obituary
On the web since March 2000!
Always check our "What's New" page
Have you signed our Guest Book at "The Newsstand"?


A project of the National Heritage Foundation
What is this Foundation?
I'd like to make a donation to help support this website!
Would you like to sponsor this page?
Contacting me: - Update
I have temporarily cleared a small amount of space in my email box. However, spam continues to be a problem. To be sure you get through the filters, be sure to include the name of our city somewhere either in the subject or the body of your email.
You can contact me by phone. Follow this link for phone number. -John
Sponsor
"Today in Chester's History" on "The Newsstand"
(Only 5.00 per day)
SEARCH the website - Thousands of pages of Chester History!
What's

Photo: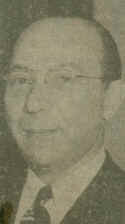 Last Name: Glass
First Name: Charles
Middle Name:
Maiden Name:
Date of Death: November 29, 1972
Newspaper: Delaware County (PA) Daily Times
Date of Newspaper: November 30, 1972
Contributor: Linda Lovenstein-Cyers
Text of Obituary:

Charles Glass, 67, of 520 N. Latches Lane Lower Merion, Montgomery County, president and owner of Rodgers' Apparel Shop, 608 Avenue of the States, Chester, died Wednesday in Lankenau Hospital, Lower Merion.

Mr. Glass was born in Philadelphia where he lived about 40 years before moving to Lower Merion.

He was a 1929 graduate of the Wharton School of the University of Pennsylvania.

Mr. Glass started his women's apparel business in 1939 at the present three-story building in Chester, where he occupied the first two floors. He eventually acquired the Berman's Women's Shop, 610-12 Avenue of the States, in order to expand his business.

The Chester businessman was past president of the Chester Businessmen's Association (CBA) and a member of the board of directors of the Delaware County Chamber of Commerce and a member of the Pennsylvania Industrial Development Authority.

Mr. Glass also was a former vice president of the chamber. He had been a chairman of the promotions committee for CBA and the prime mover in the Chester Arts Festival. A Mason, he was also a member of Har Zion Temple, and Theodore Roosevelt Lodge of Brith Sholom, both in Philadelphia.

The city merchant was an amateur painter in oils and had received awards from the Graphic Sketch Club of Philadelphia along with his wife, Cecilia.

Surviving are his wife, the former Cecilia Lovenstein and a brother, Lester Glass of Los Angeles, Calif.

Services will be 12:30 p.m. Friday at Goldstein's, 6410 N. Broad St., Philadelphia. Burial will be in Montefiore Cemetery, Fox Chase, Philadelphia.
Notes: Mr. Glass also owned Russell's Store. More of his genealogy can be found at http://www.geocities.com/jomilu2001 (Lovenstein Family Line)