Photo: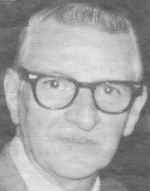 Last Name: Harden
First Name: Wesley
Middle Name: R
Maiden Name:
Date of Death: October 24, 2004
Newspaper: Delaware County (PA) Daily Times
Date of Newspaper:
Contributor: Stacy (Harden) Baran
Text of Obituary:
Wesley R. Harden Jr., 79

World War II vet; Retired Scott Paper employee
Welsey R. Harden Jr., 79, of Broomall, loving and devoted family man, died Oct. 24 at Bryn Mawr Hospital.
Born and raised in Chester, Mr. Harden was a longtime resident of Broomall and a lifelong Delaware County resident.
A Chester High graduate, Mr. Harden was a World War II Army veteran who served in the Battle of the Bulge, European Campaign with the Third Army, and drove in the Red Ball Express, which was a massive convoy effort to supply the allied armies moving through Europe.
A production supervisor for Scott Paper Co. in Chester, Mr. Harden retired in 1982 after 42 years of service.
Mr. Harden was a model train enthusiast and model builder, and enjoyed watching air shows.
Mr. Harden was a loving and devoted husband, father, grandfather and great-grandfather.
Survivors: Wife of 58 years, Sara M. Cummings Harden; sons, Dr. Wesley R. Harden III of Hanover, John I. Harden of Englishtown, N.J., and Keith A. Harden of Broomall; sisters, Ida Kunstek of Aston, Frances Benson of Wilmington, Del., and Alice Linden of Glen Mills; five grandchildren; one great-grandchild.
Service: 11:30 a.m. Thursday at the Rigby Harting & Hagan Funeral Home, 15 E. Fourth St., Media.
Visitation: 7-9 p.m. today, and 10:30-11:30 a.m. Thursday at the funeral home.
Burial: Glenwood Memorial Gardens, Broomall.
Contributions: Alzheimer's Disease Association, Robert Morris Building, 100 N. 17th Street, Philadelphia, PA 19103.
Notes: He was the son of Wesley Rennie Harden, Sr. and Emma Johnson. He was born February 9, 1925 in Chester. His grandparents were Strickland Harden and sara Rennie and George Johnson and Mary benson. The Hardens and Rennies in Chester Rural Cemetery are all relatives. - Stacy (Harden) Baran