Old
CHESTER
in Delaware County, PA
OldChesterPa.com: Obituary
On the web since March 2000!
Always check our "What's New" page
Have you signed our Guest Book at "The Newsstand"?


A project of the National Heritage Foundation
What is this Foundation?
I'd like to make a donation to help support this website!
Would you like to sponsor this page?
Contacting me: - Update
I have temporarily cleared a small amount of space in my email box. However, spam continues to be a problem. To be sure you get through the filters, be sure to include the name of our city somewhere either in the subject or the body of your email.
You can contact me by phone. Follow this link for phone number. -John
Sponsor
"Today in Chester's History" on "The Newsstand"
(Only 5.00 per day)
SEARCH the website - Thousands of pages of Chester History!
What's

Photo: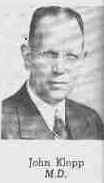 Last Name: Klopp
First Name: John
Middle Name: B
Maiden Name:
Date of Death: Thursday, March 2, 1967
Newspaper: Delaware County (PA) Daily Times
Date of Newspaper: March 2, 1967
Contributor: Peter Mooney
Text of Obituary:

Dr. John B. Klopp, 65, medical director of Chester public schools, died this morning in Crozer-Chester Medical Center, Upland.

Dr. Klopp held office hours Monday evening and after returning to his home at 1810 Edgmont Ave., Chester, had an attack and was taken to the medical center.

He was a graduate of Pottstown High School, Ursinus College, Collegeville and in 1925 was graduated from Hahnemann Medical College, Philadelphia. He was born in Philadelphia and came to Chester from Pottstown 40 years ago. He had offices at 1023 Edgmont Ave., Chester until Jan. 9 when he had to move for urban renewal to 3206 Edgmont Ave., Parkside.

Dr. Klopp was medical director of Chester School District for 35 years. He was a veteran of World War II and retired with the rank of colonel in the U.S. Medical Office of the Surgeon General.

In June 1949 he received an honorary doctor of science degree at the 102nd commencement of Hahnemann Medical College.

Dr. Klopp was honored as an administrator in public health and preventative medicine.

He interned at Crozer Hospital from 1925-26 and was its chief resident from 1926-27. He was licensed to practice medicine in Pennsylvania in 1926 and had practiced in Chester since that year with the exception of time spent in service during World War II.

He was a member of Madison Street Methodist Church where he was to have been the speaker at the Men's Communion Breakfast on Sunday.

He also was a member of the Delaware County Medical Society, the Pennsylvania Medical Society, the Reserve Officers Association of the United States, the Association of Military Surgeons of the United States; Stichter Lodge No. 254 F & AM, Benjamin Franklin Consistory; City Post of Chester American Legion No. 390. He was a charter member of Chester Optimist Club and a member of the Young Men's Republican Club of Chester.

His widow, the former Josephine Ditchfield, survives.

Services and burial will be at the convenience of the family.

Calling hours will be Sunday evening at the Imschweiler Funeral Home, 1600 Edgmont Ave., Chester. Masonic services will be 8 p.m. Sunday at the funeral home.
Notes: Dr. Klopp is interred at Chester Rural Cemetery