Old
CHESTER
in Delaware County, PA
OldChesterPa.com: Obituary
On the web since March 2000!
Always check our "What's New" page
Have you signed our Guest Book at "The Newsstand"?


A project of the National Heritage Foundation
What is this Foundation?
I'd like to make a donation to help support this website!
Would you like to sponsor this page?
Contacting me: - Update
I have temporarily cleared a small amount of space in my email box. However, spam continues to be a problem. To be sure you get through the filters, be sure to include the name of our city somewhere either in the subject or the body of your email.
You can contact me by phone. Follow this link for phone number. -John
Sponsor
"Today in Chester's History" on "The Newsstand"
(Only 5.00 per day)
SEARCH the website - Thousands of pages of Chester History!
What's

Photo: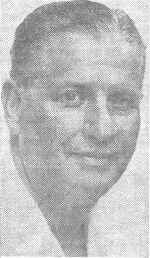 Last Name: Rosenberg
First Name: Morton
Middle Name:
Maiden Name:
Date of Death: February 11, 1963
Newspaper: Delaware County (PA) Daily Times
Date of Newspaper: February 12, 1963
Contributor: Bill Webster
Text of Obituary: Morton Rosenberg, 49, a bartender at the Colony Hotel, Chester, died Monday in Chester Hospital.

He lived at 2612 Crozer St., Parkside.

He was formerly part-owner of the 520, a bar in Chester.

Mr. Rosenberg was a member of the Benevolent Protective Order of Elks 488 of Chester, the Lloyd Athletic Club and the Parkside Fire Co.

He is survived by his widow, the former Violet McCracken; a son, Gary Kenneth, at home; a daughter, Mrs. Charles Piecara of Chester; a sister, Mrs. Beverly R. Bland of Schenectady, N.Y.; six brothers, Joseph B., Harry, Maurice and Gilbert, all of Chester, Malcom of Folsom and Leonard K. of Upland.

Services will be 2 p.m. Thursday in the Nacrelli Funeral Home, 2217 Providence Ave., Chester. Burial will be in Brookhaven Cemetery.

Calling hours will be after 7 p.m. Wednesday in the funeral home.
Notes: