Photo: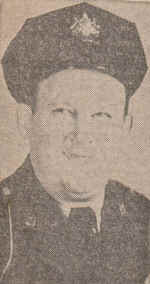 Last Name: Todd
First Name: Clarence
Middle Name: H
Maiden Name:
Date of Death: April 7, 1990
Newspaper: Delaware County (PA) Daily Times
Date of Newspaper: April 9, 1990
Contributor: Florence E O'Bryan
Text of Obituary: Clarence H. Todd, 81, of Chester, died Saturday at the Brandywine Hospital.

Born in Chester, he was the son of the late Joseph and Emma P. Fisher Todd.

He attended Chester schools and was a lifetime resident of the city.

He retired in 1967 after 25 years on the Chester Police force, retiring as a captain.

From 1967 to 1974, he was the chief of security for Crozer-Chester Medical Center.

He was a member of the F.O.P., William Penn Lodge 19; the Lloyd Athletic Club; a 25-year member of the West End Boat Club; and the Young Men's Republican Club.

He was the husband of the late Rosalie M. Kaczynski.

He is survived by two daughters, Rosalie Downey of Downington, and Marilyn C. Barry of Franklin Lake, N.J.; seven grandchildren and four great-grandchildren.

The funeral will be 11 a.m. Wednesday at the William S. Bleyler Funeral Home, 500 W. 22nd Street, Upland, where friends may call after 10 a.m.

Friends may call from 7 to 9 p.m. Tuesday.

Burial will be in Lawn Croft Cemetery.
Notes: Born: November 20, 1908