Home > Schools > Public Schools > Starr School (Original Chester High School)
Starr School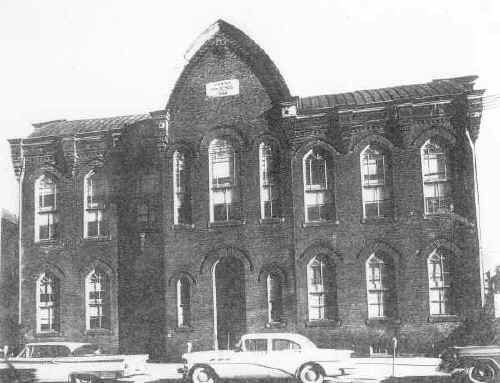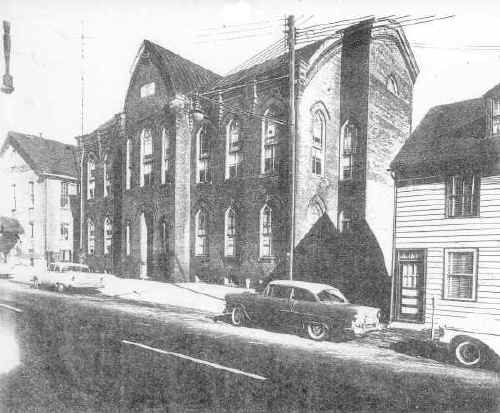 (Photos above courtesy of Mr. Bill Dandridge & Delores Freeman, Freeman Enterprises Gallery)
At the left is Harvey School
5th & Welsh St.
(Present site of the Chester Water Authority)
In 1978 the Chester Water Authority erected a plaque and the original corner stone of this building in their parking lot.
Principals | Faculty | Staff | Sports | Classes | School History
---
Principals:

| | |
| --- | --- |
| | Byron J. Pickering (c. 1927, 1928, 1929) |
| | Constance Griffin (? - 1950 - ?) - |





---

Faculty:
Some Teachers:

Mrs. Ella Bailey (retired 1949)
Miss Mary E. Burke

---

Staff:

---

Sports:
Some Coaches/Athletic Directors:


---

Classes:



---

School History:
The Starr School was the original Chester High School and was located at 5th & Welsh Streets. It was named for Dr. & Mrs. Samuel Starr, prominent and esteemed residents of Chester. The Starrs are interred at Chester Rural Cemetery.

The school later became an elementary school but was closed during the Depression.

The following sketch on the naming of the school is from the Manual of the Public Schools of the City of Chester, PA, compiled from "standard authorities" and with the assistance of Henry Graham Ashmead, Esq.:

"The Dr. Samuel Starr School is named for one whose face and form are still familiar to the recollection of all but the youngest children in our schools.

"Dr. Starr was born July 22, 1840, in Chester County, and died at Chester January 22, 1904. During the Civil War he served for four years in the United States Marine Corps. In 1869 be graduated from Hahnemann Medical College. After successful practice in Schuylkill County and Philadelphia, he came to Chester in September, 1873, and established a practice from which he was severed only by death.

"Dr. Starr was a member of the School Board from 1883 to 1895, and again from 1897 to 1900. His interest in the schools was sincere and constant, and his conspicuous energy always made itself felt. The school re-named for him is one of those he always watched over with especial care. It stands on ground given by Joseph Hoskins, with whose name that of Dr. Samuel Starr is not unworthy to be linked.

"A crayon portrait of Dr. Starr, presented by the Organon Medical Club, hangs in the Assembly Room of the school."

1 - Thanks to Bob Vaughan, bbvaughan@aol.com, for this information.
If you have any information and or pictures that you would like to contribute about this school, please forward it to john@oldchesterpa.com
---
© 2001, 2002 John A. Bullock III.

This page last updated 10/18/05