Old
CHESTER
in Delaware County, PA
OldChesterPa.com: CHS NHS
On the web since March 2000!
Always check our "What's New" page
Have you signed our Guest Book at "The Newsstand"?


A project of the National Heritage Foundation
What is this Foundation?
I'd like to make a donation to help support this website!
What's

Chester High National Honor Society
1953-1954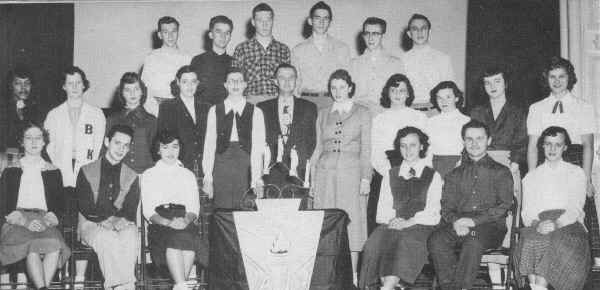 Photo from the 1954 Chester High Annual courtesy of Joan Guzek
Sitting, Left to right: Brain, Burdett, Kyriakos, Guzek, Vispi, Ratliff.

Second row: Harrison, Wood, Wowaleska, Doolittle, Pitale, Mr. Hartman (advisor); Palmer, Beck, Urian, Gatchell, Lightcap.

Third row: Glessner, Hubickey, Latch, Norton, Brown, and Luczak

President : Harold Luczak

Vice Pres: Marianne Palmer

Sec: Joan Guzek

(taken from the Annual): 1954

"In 1939, Chester High School was honored by being admitted to the National Honor Society of Secondary Schools. This society recognizes and emphasizes scholarship, character, service, and leadership within the school. Membership in this organization is the greatest honor which can be conferred upon a high school student.

Rigid requirements admit only fifteen per cent of the seniors and five per cent of the juniors for membership. Any student falling below "B" average may be dropped from the society by majority vote of the faculty and committee.

The emblem, a flaming torch set in a keystone with letters C.S.L.S. represents the four qualifications.